Communication features
Room Chat
Room Chat offers participants a space to communicate in real time, with the freedom to share insights, questions, and essential information while maintaining a sense of the physical space.
Unlike Direct Chat, messages are sent to a general chat room. They can be read by all users who are in the room.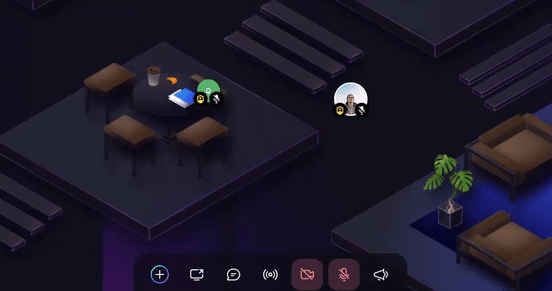 How Room Chat works in SpatialChat
Room Chat is not just a sidebar in your virtual space; it's an integral part of your interaction experience.
You can use it to provide real-time feedback, to break out into smaller discussion groups, or to share important links and resources, making it a versatile tool for all kinds of virtual gatherings.
Let's examine how these functions are applied in particular scenarios.
Online events
Room Chat can be a game-changer when it comes to enhancing the attendee experience at online events.
It is perfect for situations where real-time feedback is crucial.
During a
virtual trade fair
, an exhibitor can keep the Room Chat open to field questions and provide additional information as attendees navigate through their booth. Real-time feedback can be instantly received, allowing the exhibitor to address queries or clarify details on the spot.
This feature enables event organizers and speakers to receive immediate reactions and questions from attendees, allowing for dynamic adjustments during presentations.
💡
For
networking sessions
or
smaller workshops
, Room Chat supports "Bubble Chat," where speakers or presenters can interact with attendees in a more personalized fashion, enhancing the user experience.
Online education
Room Chat transcends the limitations of typical virtual learning environments by fostering real-time interaction and engagement.
During an
online lecture
on economics, a teacher can use Room Chat to conduct quick polls, encourage students to ask questions or share supplementary resources like articles and videos.
Room Chat offers a dedicated space for storing crucial academic resources, be it study materials, links, or important announcements, ensuring that nothing gets lost in the shuffle.
Remote work
In a corporate setting, Room Chat proves to be more than just a messaging tool; it is an asset for organized and efficient teamwork.
During a virtual project kick-off meeting, team members can use Room Chat to submit their initial thoughts on project priorities, share relevant data files, or even vote on the best course of action in real time.
The chat is a centralized repository for essential project files, links, and resources, helping team members retrieve what they need without unnecessary delays.
Helpful materials
Here are some helpful links and great resources to dive deeper into SpatialChat.
Let's explore it😊