Customization features
Add GIFs and Images
The feature allows for the seamless uploading, sharing, and saving of visual content like GIFs and images directly into the virtual space.
The feature enhances the virtual experience, providing a more engaging and interactive way for attendees to share content and interact with each other, making conversations more dynamic and multi-dimensional.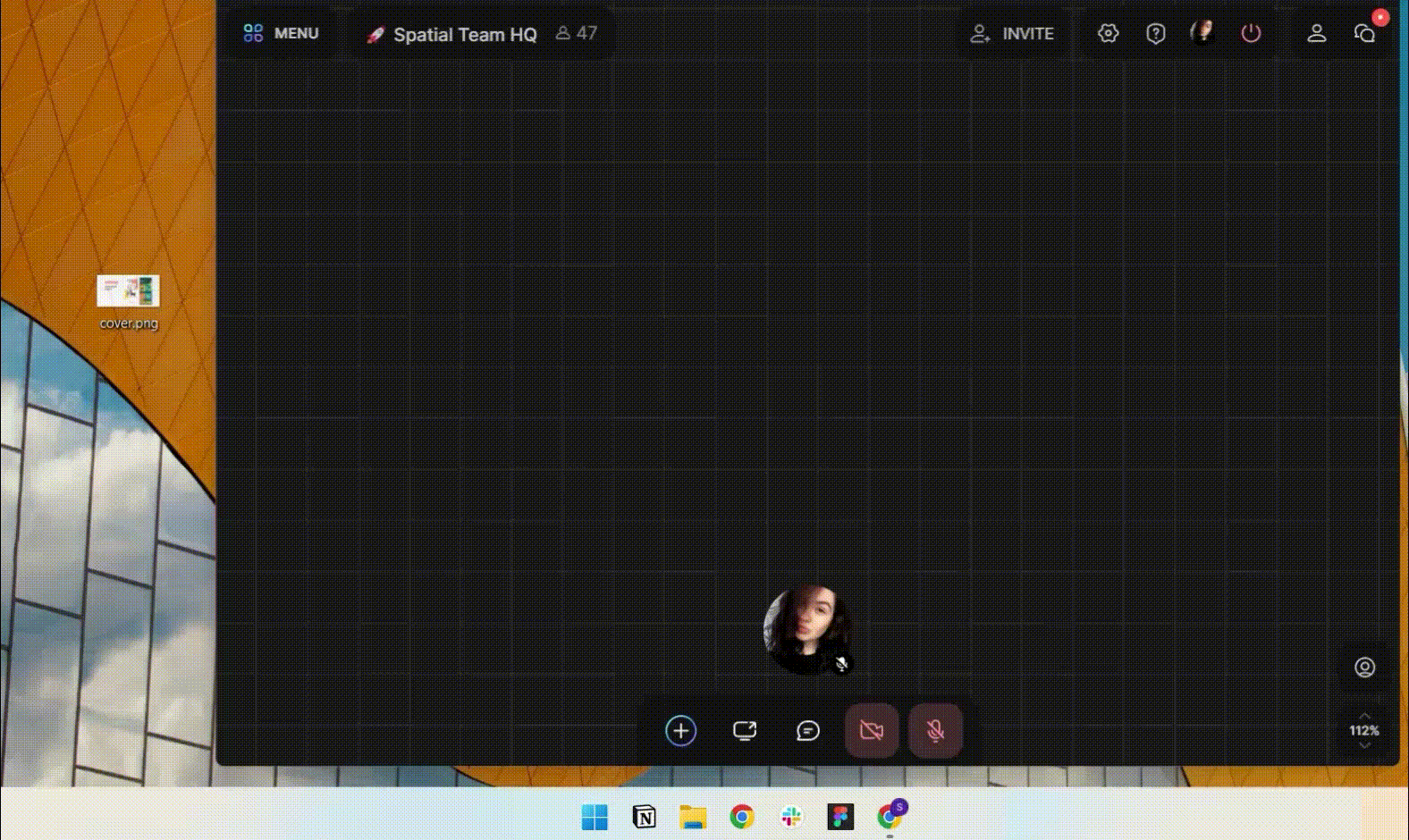 How adding GIFs and images works in SpatialChat
Let's examine how these functions are applied in particular scenarios.
Remote work
The Add GIFs and Images in SpatialChat's virtual office environment is a versatile tool that significantly enhances team communication and collaboration:
This function can serve as an element of company branding, allowing organizations to inject their unique identity directly into the virtual workspace.
It is also incredibly useful for sharing materials like charts, diagrams, and mood boards, facilitating a more data-driven and creative decision-making process. Team members can discuss and evaluate these visuals in real time, making every session truly interactive.
In addition to its practical applications, the inclusion of media content like GIFs adds a touch of fun and creativity to the virtual office. This brings a dynamic and engaging aspect to even small teams, making it possible to create fun social hours that keep the remote team connected and motivated.
Ultimately, the feature to add GIFs and images elevates the SpatialChat experience, facilitating a more interactive, enjoyable, and productive collaboration for teams of all sizes.
Virtual events
The ability to add GIFs and images in SpatialChat's virtual events takes user engagement and interaction to the next level.
This feature not only serves as an element of company branding but also enables the seamless incorporation of useful materials like slides, charts, or images. As a result, you can make every session — from engaging networking events to interactive strategy sessions, and from one-time conferences to fully branded events—truly interactive and visually captivating.
Online education
In a SpatialChat virtual class, the addition of GIFs and images serves multiple valuable purposes that enhance the educational and interactive experience for students. This feature not only acts as a repository for materials but also becomes a source of entertainment and creative expression.
Teachers can upload and pin various resources — be it diagrams, flow charts, or even engaging GIFs — directly onto the virtual canvas. Once pinned, these materials are accessible to students throughout the course, making it a convenient way to store and retrieve instructional content.
Overall, the ability to add and store images and GIFs in a SpatialChat virtual class significantly enriches the learning experience, making it more dynamic, interactive, and engaging for all participants.
Helpful materials
Here are some helpful links and great resources to dive deeper into the world of SpatialChat.
Let's explore it😊