Integration settings
Miro Boards on SpatialChat
Miro is a virtual whiteboard tool that can assist you in organizing your thoughts, working with your team, and managing tasks.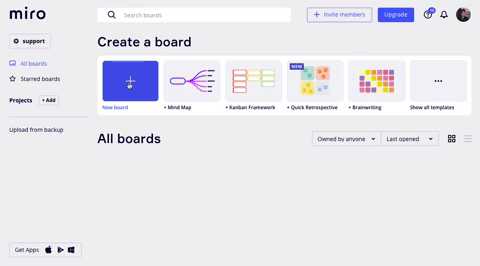 You can easily connect Miro boards to SpatialChat.
Additionally, Miro board integration is only available in Breakout and Workplace rooms in SpatialChat.
How to add Miro Board in SpatialChat room
To start using Miro:
You'll need to sign up for an account.
Once you've done that, you can create a new board from your Miro dashboard by clicking on the blue square labeled "New Board" on the far left.
After you click on "New Board," a new board will open, allowing you to begin using it. It's important to remember to save your board when you are finished working on it. This will ensure that your progress is saved and can be accessed at a later time.
To add your Miro board to SpatialChat, go to the bottom bar of any room and click on the "Add content" button.
From there, select the option to "Add Whiteboard." This will allow you to paste your Miro board into the SpatialChat room for others to view and interact with.
If you're wondering how your attendees will see and collaborate with the board, the answer is:

If your guest is not signed up on Miro, the board will look like this:

If your guest is already on your Miro Team, or already logged on Miro, the board will look like this: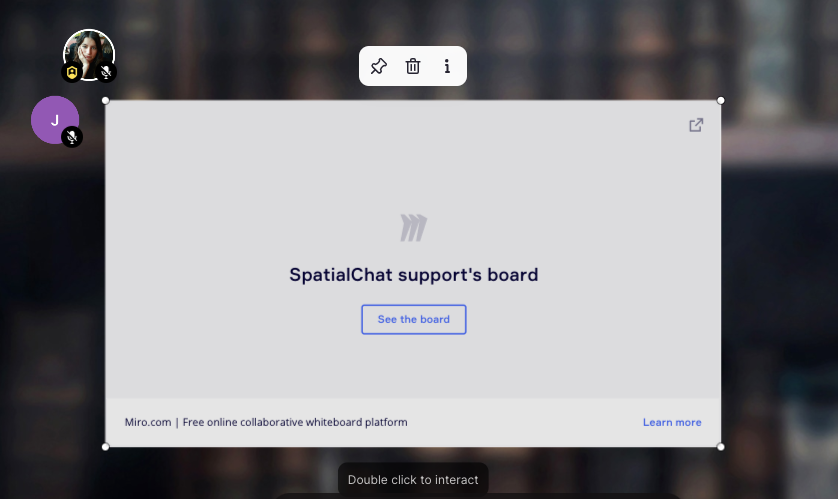 If you have the Miro account, you will have immediate access to interact with the Miro board when it is added to SpatialChat. If you are not a member of the Miro team, you will need permission from the owner of the board to access and interact with it.
It's important to note that the use of Miro boards in SpatialChat can be controlled through the Room Permissions settings. You can choose whether or not to allow others to use the Miro board in the room.
💡
Keep in mind that the interaction with collaborating tools in SpatialChat, including Miro boards, works similarly to using Iframes. You will need to click on the board to interact with it, and if your guests do not have permission to access the board, they may not see the same information as you.
Have fun collaborating with your team using Miro boards in SpatialChat!