Use Case Guides
Poster sessions
Let's explore these features that not only make your virtual poster session efficient but also engaging and memorable.
— Sasha Rosman — Website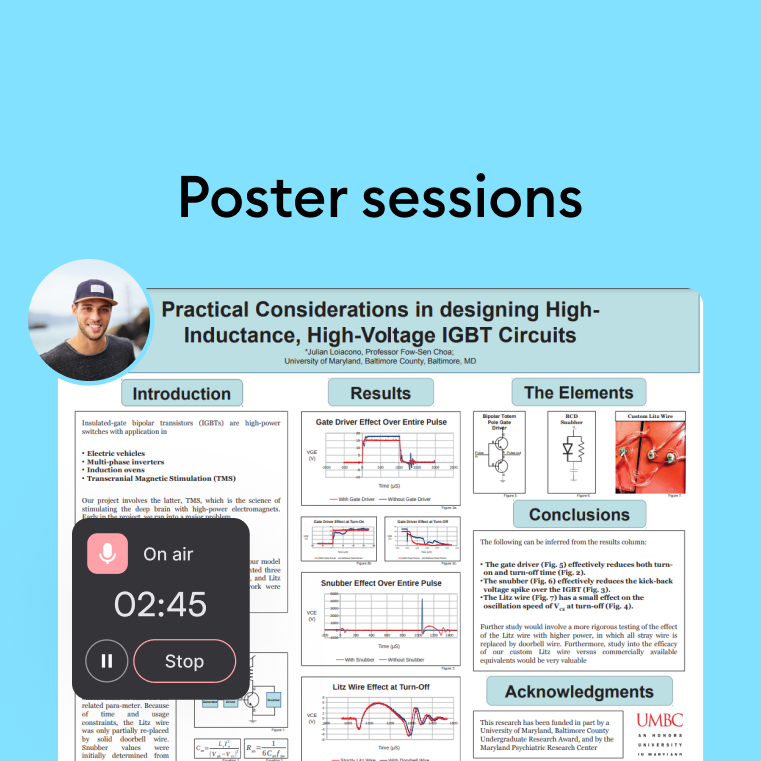 In a world increasingly leaning towards digital collaboration, the traditional format of poster sessions often falls short. Physical venues can be expensive to book and tricky to navigate, while the run-of-the-mill online options lack the interactive elements that make poster sessions engaging and productive.
💡
Beyond the logistical issues, attendees often miss the spontaneous interactions and networking opportunities that come with an in-person event.
Enter SpatialChat — the platform that seeks to address these challenges by offering a virtual environment that feels as interactive and engaging as a real-life conference hall.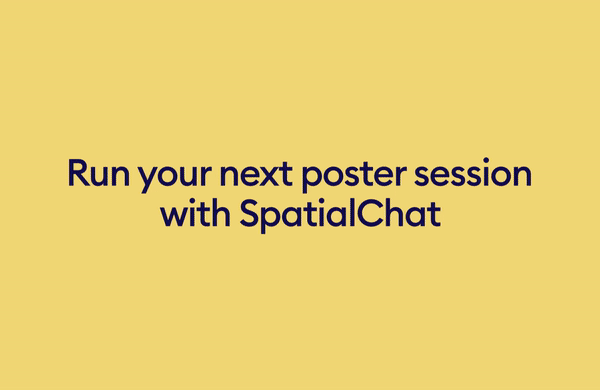 How SpatialChat's features are transforming Poster sessions
When it comes to virtual poster sessions, the goal is not just to present information but to create an interactive and engaging environment that mirrors the dynamism of an in-person event. The features offered by advanced platforms like SpatialChat go beyond mere presentation, aiming to create a richer, more interactive experience for both presenters and attendees alike.

Let's explore these features that not only make your virtual poster session efficient but also engaging and memorable.
Discover the power of Spatial Audio
One of the standout features of SpatialChat is Spatial Audio. This feature creates an aural environment where the volume of other participants changes based on their position in the virtual space, much like in real life. The implications for poster sessions are immediate: attendees can walk up to a virtual poster and engage in an impromptu conversation with the presenter, just as they would in an in-person event.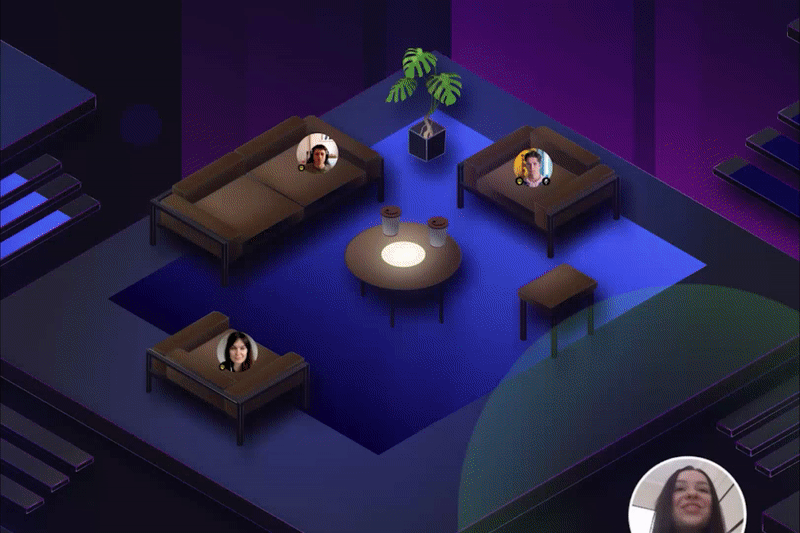 During a recent virtual health conference, attendees could stroll between 'booths' (designated audio zones) to discuss medical innovations. Conversations were as fluid and spontaneous as they would be at a physical poster session, all thanks to the seamless spatial audio experience.
Branding your virtual poster session
The ability to customize Room backgrounds in SpatialChat elevates the experience from a generic online meeting to a tailored event space. Different rooms can be themed according to the subject matter of the posters they host, providing attendees with a more organized and visually pleasing environment for exploration.
In an academic poster session focused on renewable energy, each virtual room was themed with backgrounds depicting different forms of clean energy — solar, wind, hydro, etc. This immediately put attendees in the right context and facilitated more meaningful conversations.
Create a connected, interactive experience on Stage
Make the most of your online poster session by leveraging SpatialChat's Stage Room. This unique feature offers a transformative approach to delivering presentations, keynote speeches, or live demos to a wider audience.
Amplify attendee engagement with: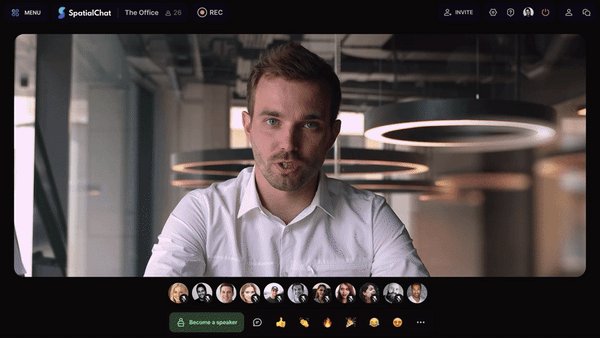 Using multi-modal content for greater engagement
The power of adding various types of content to your virtual poster session on SpatialChat cannot be overstated. This feature doesn't just improve the user experience; it also enriches the quality of the content presented.
Here are some of the ways you can amplify your virtual poster sessions:
YouTube Integration
Allows you to add videos from popular resources (YouTube, Vimeo and Twitch) to virtual rooms and live-streaming of keynote speeches, panel discussions, and other types of interactive sessions.
Pinning PDFs
Presenters can pin PDFs next to their virtual posters that contain technical specifications, data, and additional information, providing a deeper context to the presentation.
Interactive media
Enliven your session with GIFs and images to make the content more engaging and visually appealing.
Dynamic presentations
The ability to share multiple browser screens and computer windows to display different types of content, like slides, videos, websites, articles, applications and programs in one place, allows for a richer and more dynamic presentation experience.
Third-party integrations
Include interactive elements such as quizzes and games by integrating tools like Kahoot, Slido, and MindMeister.
Seamless transitions
Eliminate the need to switch between tabs constantly by using features that let you switch between different Miro Boards and Google Docs smoothly.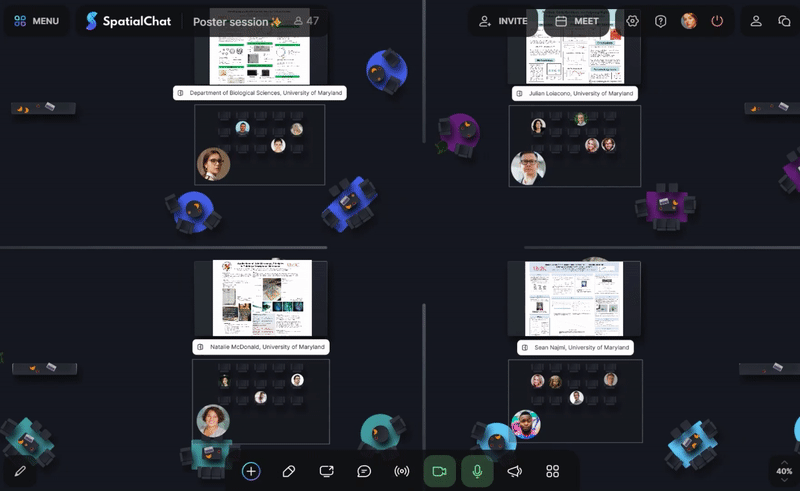 In a tech conference poster session, one presenter fully leveraged these features to create an engaging experience. They used
YouTube
for live-streaming a product demo, pinned a technical whitepaper as a
PDF
, and even included an interactive Kahoot quiz. Attendees could engage with the multifaceted content seamlessly, making the session not only informative but also engaging.
By incorporating these various content features, SpatialChat helps you host a poster session that is both informative and interactive, encouraging deeper engagement and a more meaningful exchange of ideas.
Helpful materials
Here are some helpful links and great resources to dive deeper into the world of SpatialChat.
Let's explore it😊