Customer Stories
How Ideoscripto created interactive virtual seminars for team transformation
This article describes how Ideoscripto managed to host effective engaging virtual seminars regularly. We will dive into their virtual event organization structure both for corporate seminars and team building of 120-150 people average capacity.
— Atis Silis — Website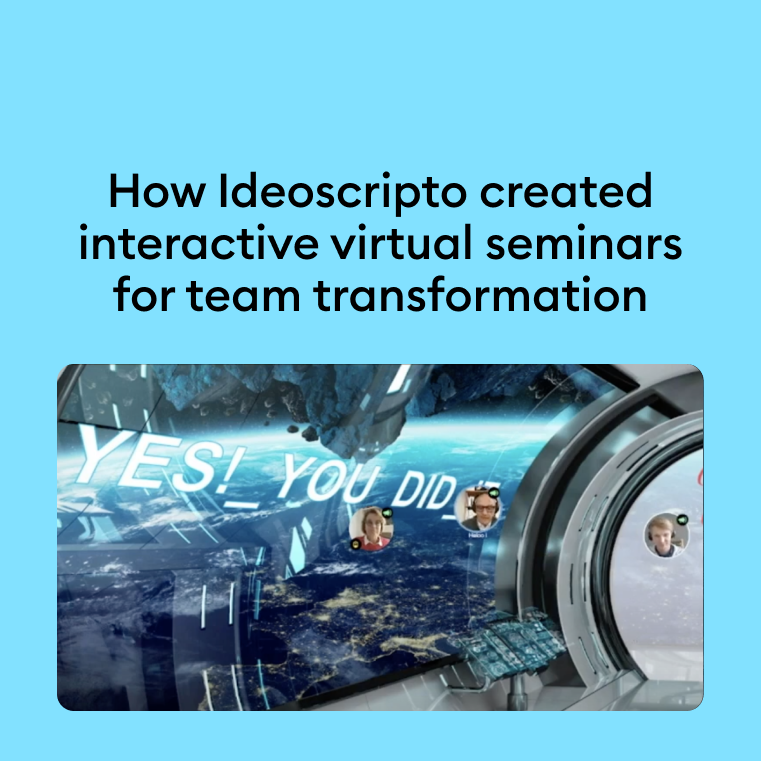 Selecting interactive software for online corporate events can feel complicated and overwhelming sometimes. Event organizers constantly search alternatives or tools with additional features and capabilities. For virtual seminars, it's crucial to grant interactivity to keep online participants involved, included, and connected with each other for their education purposes.
This article describes how Ideoscripto managed to host effective engaging virtual seminars regularly. We will dive into their virtual event organization structure both for corporate seminars and team building of 120-150 people average capacity.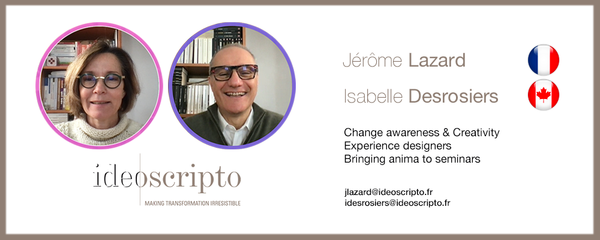 About Ideoscripto services
Ideoscripto's main specialization is facilitation of the workshops and webinars for teams, both live and online. They work with international corporations on different kinds of infamous transformations: strategic, IT, mindset, and others. As founders share, they create experiences for managers to enable them implement company's strategy smartly.
Searching for better ways to experience online seminars
Ideoscripto shared that they were doing semi online and live seminars, workshops, transformation advertising campaigns for 16 years and mostly used Zoom and Microsoft Teams for these purposes. At some moment they felt the need to try new ways of experiencing online seminars, new types of interactions, new ways of designing and facilitating workshops, with having fun together.
We need to make the 120 participants comfortable with a new technical solution, so people can interact freely with each other. We are pushing the boundaries of each tool trying to go even further than when we use Zoom with multiple cameras and video backgrounds.
Lots of interactions was the key point required. Organisers needed to host great online teambuildings, workshops, and seminars on the video-conferencing platform with advanced engagement features.
Top usage scenarios for great facilitation
Ideoscripto got to know about SpatialChat through their strategic and creative intelligence review and started using it twice a week regularly. Apparently, the online seminar experience on the platform turned out to be the closest to In Real Life seminar to be offered to participants overdosed by Teams and Zoom meetings.
There were several main usage scenarios for SpatialChat:
Seminars & Workshops,
Ideoscripto business development meetings,
2022 Ideoscripto New Year card,
Testing how to innovate on the platform use with interactions, background design, and animation.
The largest event Ideoscripto organized on SpatialChat was the online seminar with up to 150 attendees. It was valuable to host the event in a consistent, relevant, original way, and have fun as well.
Ideoscripto's recipe for hosting corporate events online
Valuable tips to set up a space for seminars
Setting up a virtual space for an online seminar requires careful planning and consideration of various factors. Here's a step-by-step overview of the virtual space Ideoscripto set up for online seminar:
3 Welcome rooms with 2-3 persons from the client's team, trained to welcome everyone and send them to meet the board,
1 Stage room,
8 Duo rooms to meet the newcomers,
7 Topic rooms for workshops on hot topics to solve,
1 Tea&Coffee room for the break online or offline,
1 Agenda room,
1 Team member for conversation room if they are lost,
1 Team member for the teambuilding room if they are lost.
All preparation meetings were hosted on SpatialChat with backgrounds to widen their understanding of the potential and gain their ability to navigate in different kinds of environment. Room backgrounds were developed with specific content intention such as the one to welcome participants, to integrate facilitation, to make group photos, calls, coffee breaks, networking, and brainstorming.
In case of team building on SpatialChat, it's a bit different
Ideoscripto also created great team buildings for companies that foster collaboration and engagement among team members.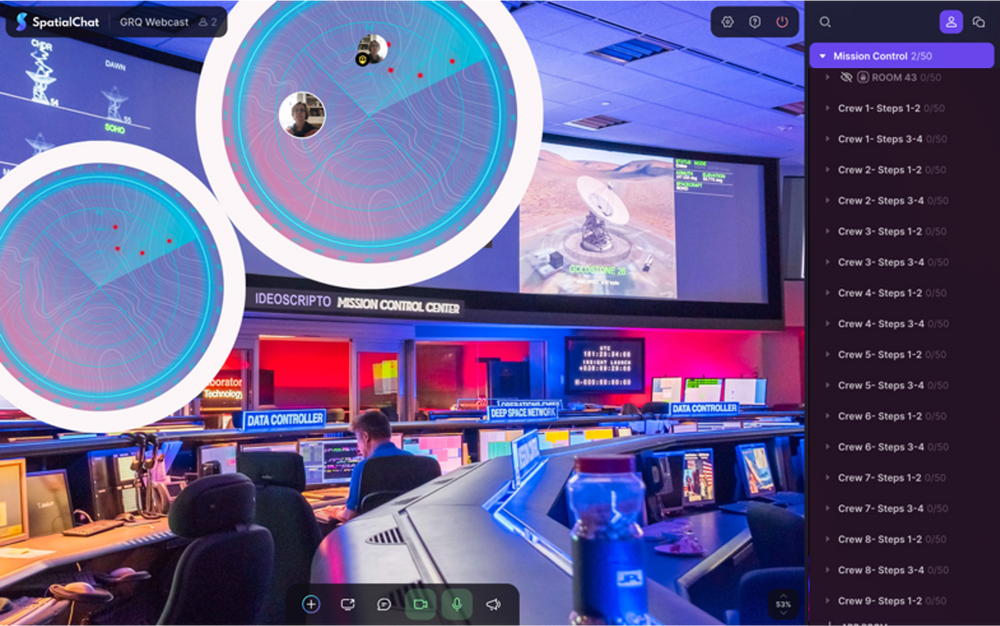 Here you can find the list of virtual rooms prepared for the teambuilding:
To make a team-building event like Ideoscripto's, you will need:
◉ 11 teams, 22 main rooms, and others such as:
— 1 Ground Control room for helping the crews to find answers,
— 22 Crew rooms space travel to the moon,
— 1 Room 43, a secret room to open with a code to sign the wall of fame;

◉ A timer which limited the time to find all answers,

◉ Interactive game with intriguing questions such as cracking 4 codes to get to "Room 43", reverse sounds, recognizing languages, emoticon titles for movies or series, song titles,

◉ Additional links: Use them to search for words on Google Earth,

◉ Group photo area in space as astronauts.
Ideoscriypto also invited one facilitator for Mission Control and two facilitators who helped at the beginning of the event
The team-building goal was "Go to the moon!" and participants enjoyed the proximity sound system which enabled them to have small talks in the corners of the rooms.
Because people are quite acting like in a live event, Ideoscripto recommends having a staff acting likewise. At least for big events, it's great to set up a help desk and people to foster good transfers of activities and good timing.
So, when it comes to enhancing virtual seminars and team building, SpatialChat offers a great advantage. It's interactive and visually engaging virtual spaces capture participants' attention, spark curiosity, and drive higher attendance rates.
Helpful materials
Here are some helpful links and great resources to dive deeper into the world of SpatialChat.
Let's explore it😊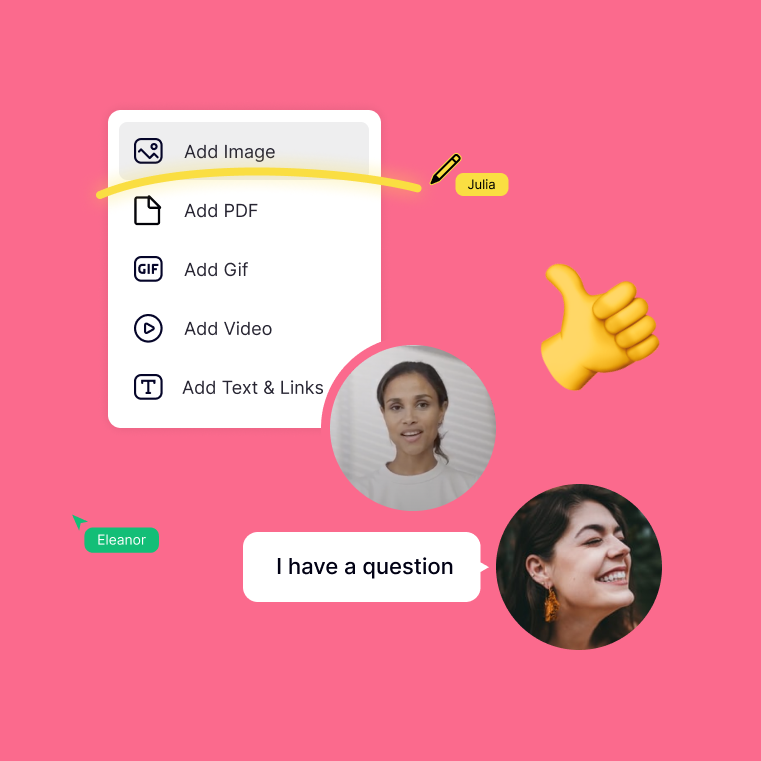 Let's kick things off with some simple guidelines to help you begin your journey of interacting.
Learn more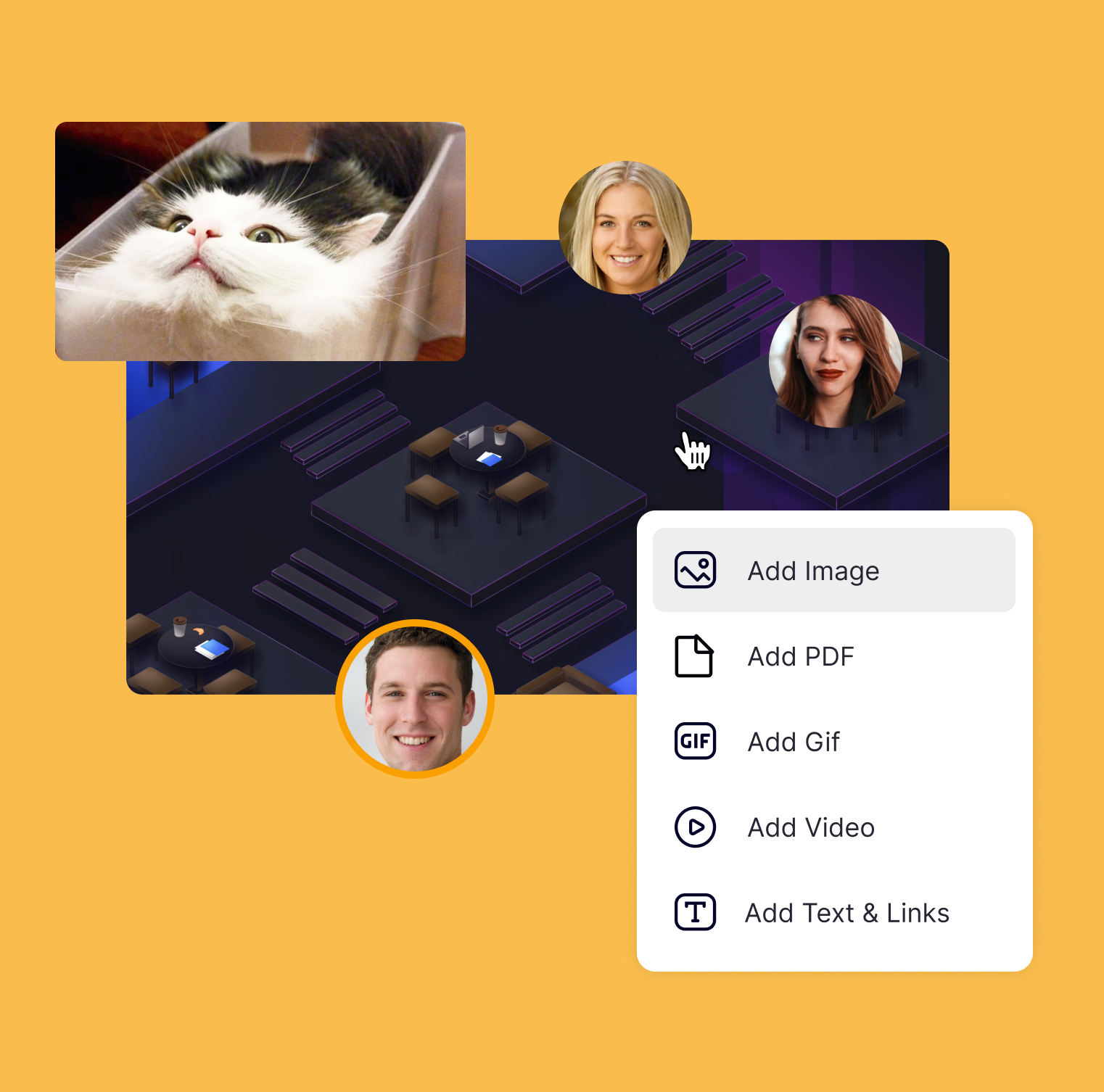 Explore, learn, and engage with SpatialChat!


Try for free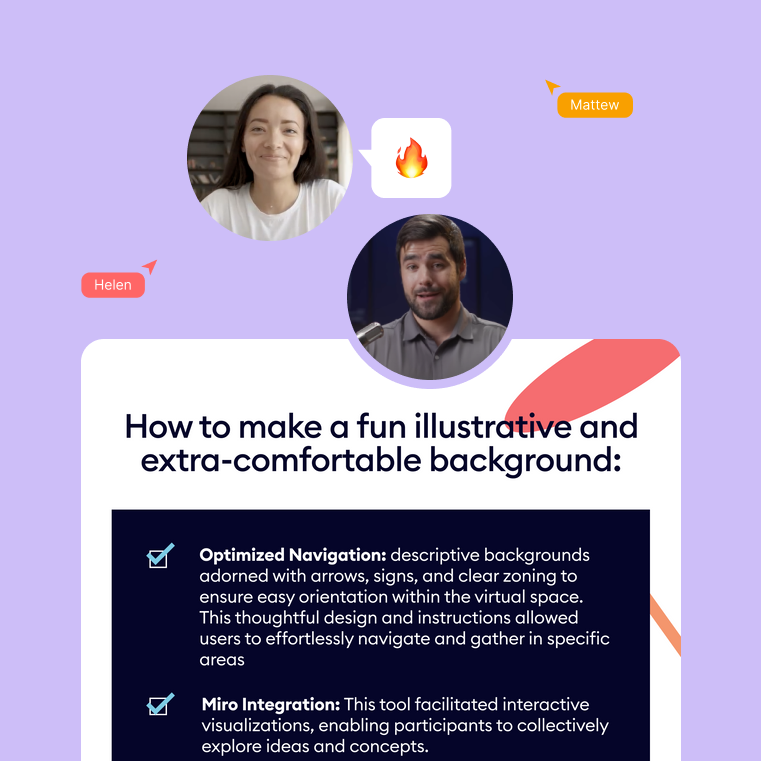 Discover creative ways to enhance your virtual interactions and collaborations..


Learn more