SpatialChat Release 10/12/21
Hey guys!
We're working hard on a very big release in January but we also wanted to make a holiday present for you this year. And we've cooked a new release for you!
Feel free to explore it right now🚀
Changelog:
Stage Room up to 5k listeners - now you can make your performance on the Stage bigger and better with up to 5k eager listeners😍
Whiteboard in Breakout Room - collaborations are now cooler than ever! You can add your Miro Board right in the room and work together.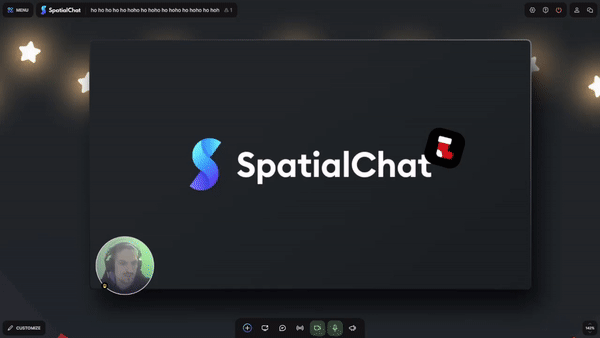 Google Docs in Breakout Room - sometimes you need to edit or check documents with your team online but you want more involvement and fun. Now you can put your Google Docs, Spreadsheets or Presentations right on the map🥳
When the Megaphone is enabled, the avatar is bigger - when you gather a lot of people, specific ones need to be more notable when presenting! With this new feature just turn on the Megaphone and become bigger and louder than others!
New Cookie Policy - check our new policy here.
Bug fixes and improvements - we're trying to make SpatialChat better and add some minor improvements and bug fixes for the best experience🚀