Excited to share March 2023 news digest for SpatialChat!
In this edition, we'll be covering onboarding updates, together with new pricing system and networking useful tips.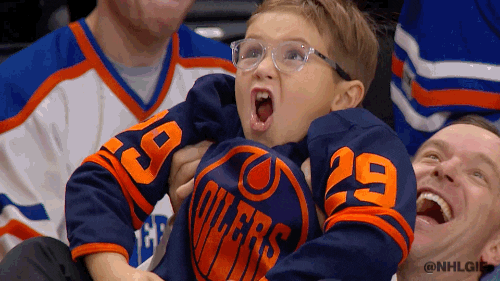 Meet our TryMe space for your easier onboarding
To make the onboarding easier and more effective, we've created new TryMe space open and available for all users. It's your ultimate guide to exploring the endless possibilities of SpatialChat!
The space is designed to help you better understand how to use the platform for various purposes. Once you're looking to host a social gathering, organize an online conference, or even create a virtual tour of a university, TryMe Space has got you covered.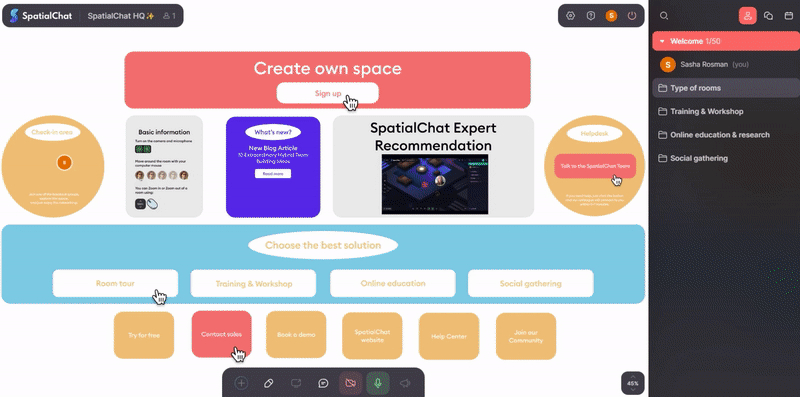 What you will find in the space:
Welcome room with Basic onboarding information, Announcement board, "How to" Video, Helpdesk, and links to helpful resources like Help Center, Demo, Website, Community, Contact Sales button.
Basic Room Types: Breakout with explanatory designs, Stage with How_to_Video, and Workplace with embedded documents and external tools.
Detailed Use Cases for Training&Workshops, Online education, and Social Gathering. Each of these use cases covers curated visual content which empowers your events and regular online meeting experience.
You'll definitely find something useful: be welcome to explore new areas that you've never considered before. With so much to discover, you'll never run out of things to do there. So, go ahead and dive into TryMe space - you won't be disappointed!
New pricing gets more flexible
We are excited to announce a new pricing system that allows our users more flexibility and customization than before. As a free plan user, you will still have unlimited access to SpatialChat.
The only change you will experience is related to elements (GIF files, embeds, shared screens, etc). They will no longer be stored in rooms, and the number of embeds and files will be limited to 3 per room. In exchange, we offer new, more cost-effective plans.
Choose from the ones as follows:
Free, for those who want to get acquainted with the platform and its core features.
Lite, for those who host small classes, workshops, and trainings.
Plus, for large groups with a significant number of participants.

If you need to organize an event, here are the ideal options:
Day passes are excellent for town halls, conferences, and offsites.
Custom, for events of any complexity.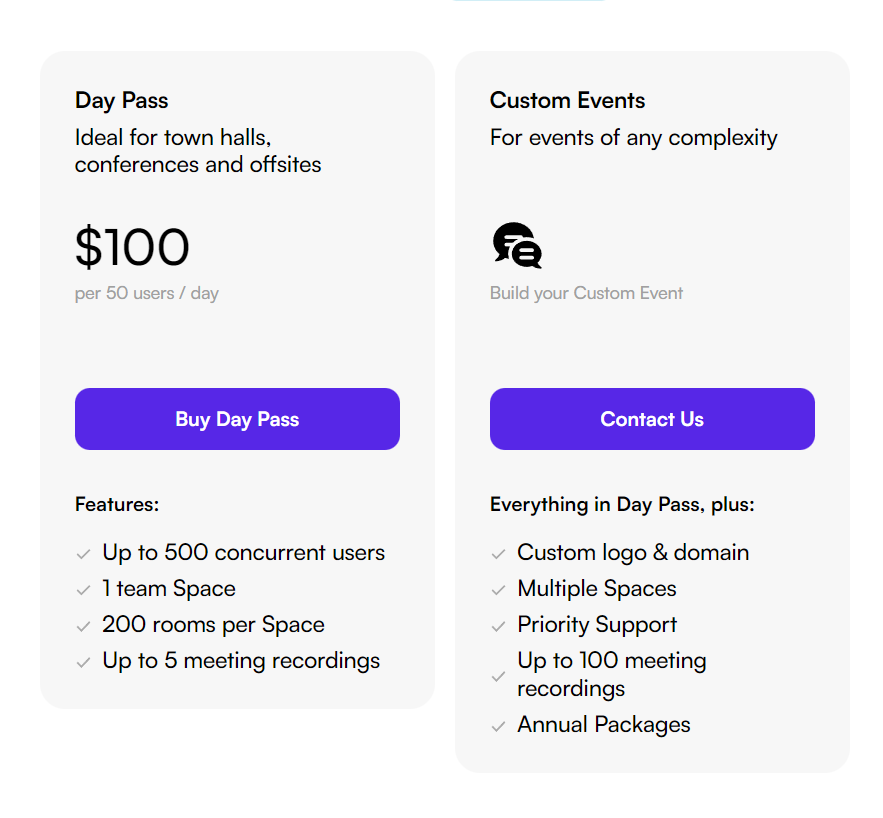 We believe that the new pricing represents a significant step forward for our company, and look forward to improving our services for our valued users.
Networking tips for event organisers
With the online networking organised right, you can build your brand, expand the network, or support a strong online presence. Here are a few tips to help you optimise online networking efforts and help attendees build valuable connections.
Here are some tips that can help you improve your online networking and make the most out of your events:
Select a toolset with a video-conferencing platform to ensure that a software supports holding virtual meetings with networking with a high-level quality. For networking capabilities, SpatialChat has emerged as one of the best interactive video-conferencing platforms to facilitate it. The platform provides convenient capabilities to split participants into groups, let them exchange ideas, and foster to participate in group or one-to-one discussions.
Ensure building virtual space which covers all networking parts - prebuilt networking areas, introduction and timing. For example, our client IC3Dose built networking recreation areas with desirable interaction spirit using some personal photos. These photo rooms became very popular among participants. They gathered, had a chat, and posted their pictures - it was a very nice socializing area!
SpatialChat allowed to upload a background from an image, guests started playing around with this feature. Even though people were all on computers, it felt as if they were at an in-person conference, seeing others walk around the hall, conversing and networking. Thus, platform customisation features made it incredibly simple and intuitive to personalize the networking area to fit the desired look and spirit.
Experiment with different networking formats to fully explore the potential of your events. For example, MozFest organisers tried AI Hackathon and Science Fair, Movie Theater, Coffee Chats, Arts & Culture Fair, Creative AI Happy Hour, Creative AI Art Gallery, and Helpdesk.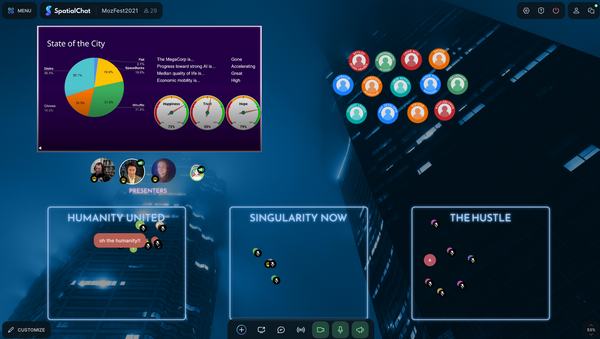 Event organisers customized backgrounds, Gifs, videos, hidden but linked rooms, passwords etc. They ensured people had a reason for showing up. Thus, networking participants were excited to jump into SpatialChat with a lot excitement around the platform.
When setting up a networking plan, pay special attention to making the most of the software to attract sponsors. Sponsor-friendly set up at any conference includes both a well-designed dedicated environment and their organised promotion.
For example, when Konfy hosted their conferences, they customised promotion areas and broadcasted across the space to ensure everyone was aware of it.
In SpatialChat, they created a flexible track with the links, so that each room had its own promotion areas leading to sponsor rooms. Additionally, there was a broadcast feature for making announcements to the participants in all rooms, which is helpful for this purpose.
Virtual sponsors should have access to more comprehensive post-conference data reports to evaluate the success of the event for them. This includes information such as who attended their sessions, when participants dropped out, and demographics.
This data was tracked in SpatialChat through analytics reports prepared for each event individually.
---
Overall, in March we have accomplished a lot of important tasks, and our team is committed to  provide you with the highest level of service possible. We greatly appreciate your ongoing support which have been instrumental in our progress thus far. We would love to hear from you, and we encourage you to share any feedback, suggestions, or ideas that you may have for us.
Join your space to set up your next interactive meeting, or if you're new to the platform, try it out for free!
---
To learn more about SpatialChat:‌
‌👉 Try for free‌
‌👉 Join demo‌
‌👉 Visit Community
Connect:‌
‌LinkedIn | Twitter |  YouTube | Facebook | TikTok | Instagram‌
‌
Made for you with️ ❤️ from SpatialChat