Excited to share February 2023 news digest for SpatialChat! In this edition, we'll be covering the latest releases on the platform, lessons learnt after a hosted event, and useful tips as usual.
The past month has seen rich product updates, with a lot of exciting new features launched. Plus, we'll provide tips for getting the most out of SpatialChat, whether you're a first-time user or a seasoned pro.
Key takeaways for University of Liverpool conference
University of Liverpool shared great feedback and their key takeaways based on their online conference, Islands of Innovation 2022 hosted on SpatialChat. The event aimed to connect educators, educational developers, and learning technologists across the globe to share educational innovations and co-create an imagined future of education.
To give a general idea, the event consisted of three separate sessions, and participants were divided into groups to complete a series of scaffolded activities, culminating in a final collaborative task: the creation of an Island of Innovation. Throughout the conference, attendees explored market hall themes to draw inspiration and as a result, each group produced one innovative idea.
Planning and delivering this open, collaborative event was a lot of fun. A key consideration for our team was ensuring accessibility and inclusivity underpinned the event design. Building a collaborative virtual space with this focus ensured a positive experience for participants, and this was reflected in the feedback. SpatialChat certainly proved a popular and versatile platform. It was great to see so much participant diversity and engagement at the event.

Rob Lindsay, Digital and multimedia expert, Centre for Innovation in Education, University of Liverpool
As a truly co-creative online event, it also brought some lessons learnt for event organizers:
Tech support was essential for making global online conferences truly interactive, especially when participants with different backgrounds were involved. Fortunately, SpatialChat offers in-event tech support, and this means that if you encounter any issues during your event, our tech support representative is there to help. Our support team is available 24/7 to ensure that you have the best possible experience. Once this is something you're challenged with, please contact your account manager to get a consultation.
If participants from different time zones are attending, it is better to split the event into multiple days rather than having it as an all-day format. For such cases, we've created flexible self-service Day pass pricing ideal for town halls, conferences, and offsites. It is a one-day Plan with 24-hour access to the Space which grants a certain number of Seats and up to 200 Rooms. Make the attendees' journey as comfortable as possible!
The conference was a great success, SpatialChat turned out as a good fit both for event organisers and attendees who were so much delighted.
It was a very feature-rich month for our dev team
We released several new features, including Private areas, Video backgrounds, Mic Noise suppression, Google Calendar integration, Google sign-in, Pinned by default, and a couple more.
With Private areas in the Breakout Rooms, now you can create separate zones on the background where users can enter and stop hearing attendees who are outside of these zones. This feature is ideal for educational purposes when it is necessary to split learners into private groups, or for making work meetings more flexible.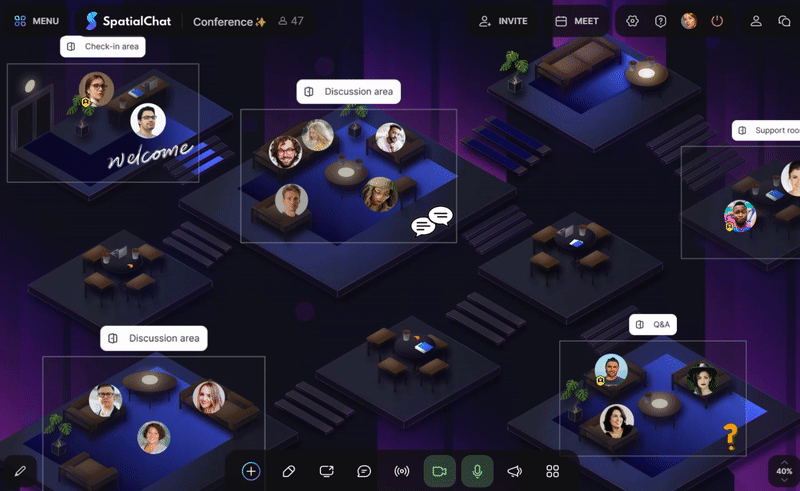 One of the most anticipated feature is Video backgrounds for video bubbles: you can now blur the background of your video to feel more comfortable in any room type. A library of default themes with nature, urban, and office styles is included to enhance your experience.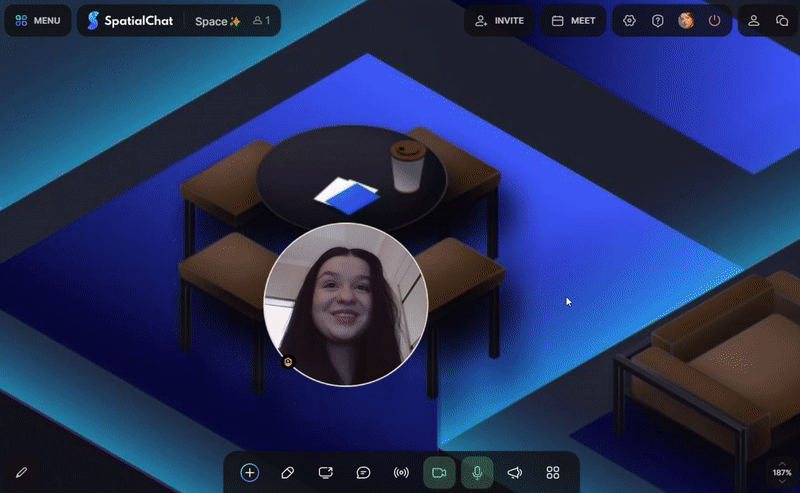 Mic Noise Suppression now removes unwanted noise and echoes during calls which is super comfortable for people on the go.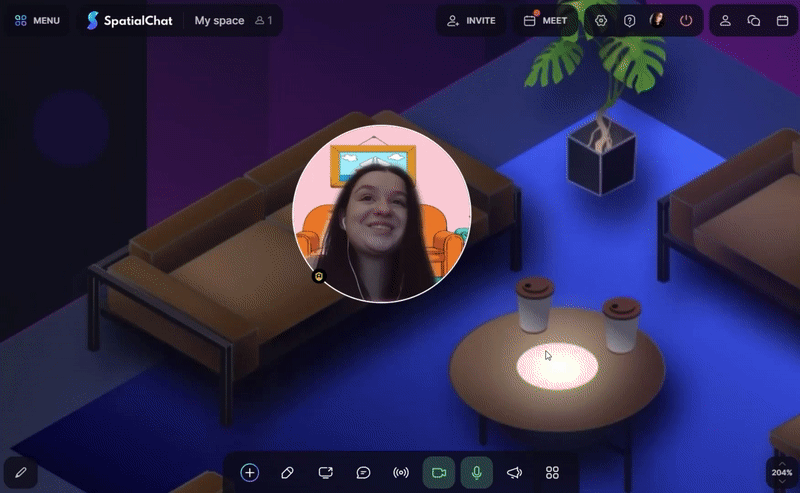 You can also enjoy more convenient ways of handling your meetings with Google Calendar integration. This allows to set up events on the platform and have them visible right in the space.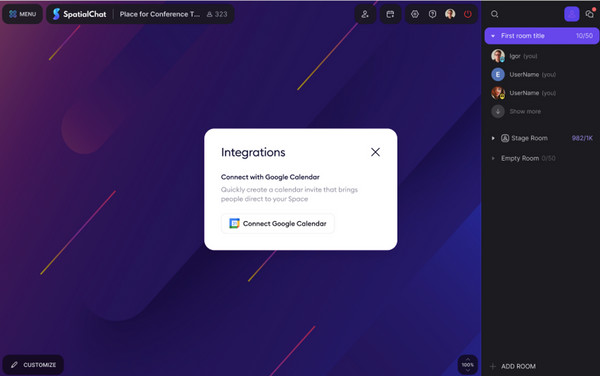 Additionally, the Pinned by default feature delivers new flow for all space elements: now you can add elements and they will be pinned by default. No more lost customisation and decoration in your space!
Read more about other features here and we are always ready to support if you have any questions or suggestions.
Customization: 3 tips from SpatialChat experts
Check out our Community backgrounds that to create engaging and interactive virtual events. If you're planning a virtual workshop, training session, or scientific conference, pre-built backgrounds provide a professional and polished look to your event.
These backgrounds are kindly shared by the users and may bring you inspiration to create your beautifully designed spaces equipped with amazing rooms. Soon, we will enhance user experience even more and add new backgrounds in SpatialChat library as well.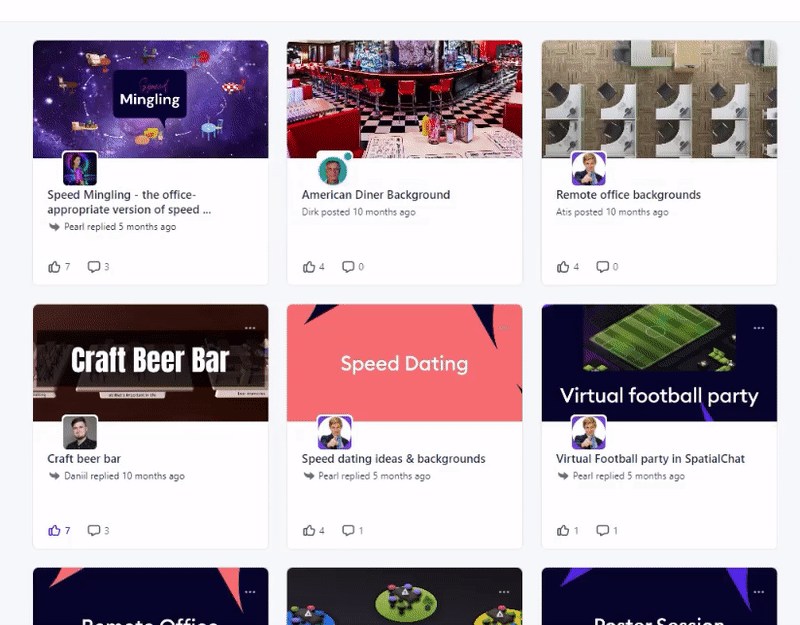 Enhance them with customizable features to suit your specific needs and branding:
Embed various types of media, such as videos and GIFs, to make your content more engaging and dynamic.
Upload documents, notes, and files to supplement your message and provide additional context. This allows you to create a more robust and comprehensive environment that will better capture your audience's attention and keep them engaged throughout the event.
Overall, February has been a productive month, and our team is committed to stay at the cutting edge of technology and provide you with the highest level of service possible. Your support has been instrumental in our success thus far, and we look forward to hearing from you.
Join your space to set up your next interactive meeting!
---
To learn more about SpatialChat:
👉 Try for free
👉 Join demo
👉 Visit Community
Connect:
LinkedIn | Twitter |  YouTube | Facebook | TikTok | Instagram

Made for you with️ ❤️ from SpatialChat