Best Practices
The Shift to Hybrid Workspace: How to make a remote team and office work together?
In today's time, every CEO faces the same quandary regardless of company capacity and size. They are still wondering whether they should ride out the storm with the hope of going "back to normal" or if it's time to switch to a hybrid workspace. Many of the world's offices have already moved to a digital space.
Here we should ask one of the most crucial questions. What is the purpose of a business anyways? Millions of people have already proved they can do innovative and remarkable work outside a typical office environment. Now the question is, if employees can do a remarkable job working remotely, what's the point of having a physical workspace?
"We are seeing acceleration of the trend to democratize the workplace… During these last few months, digital technology has flattened hierarchies, with everyone connected and getting information at the same time, and so many channels for employee input and involvement in decision-making in real time." – Diane Gherson, CHRO at IBM
Well, at the end of the day, nothing can replace in-person human interaction when it comes to business success, mental health, and productivity. In that case, a hybrid workspace comes to the rescue. But for a hybrid workforce, businesses must shift their conversation or the focal point. Instead of talking about the hybrid workplace, they should embrace it to grow the business in this new normal environment.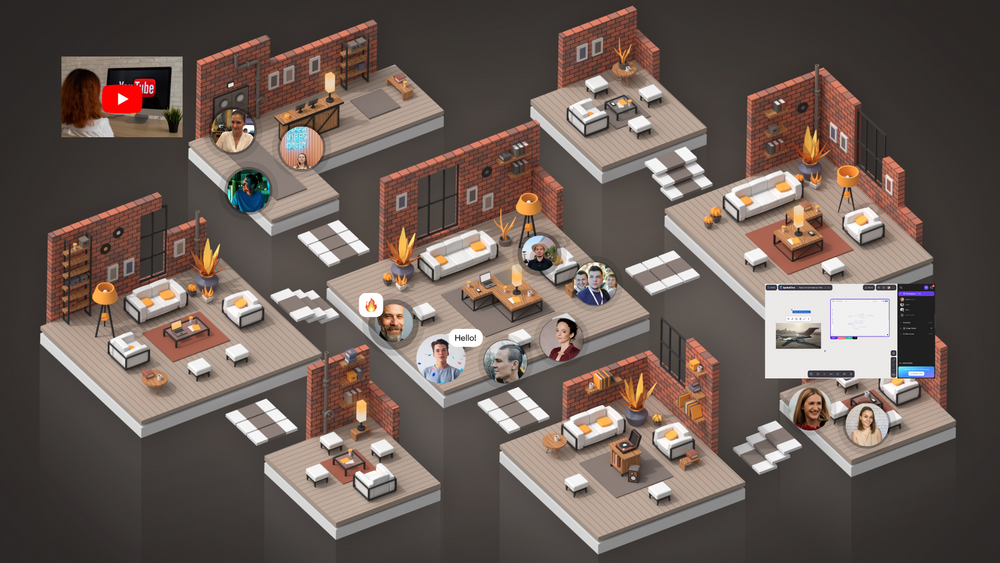 How does a hybrid workspace work?
According to Daniel Pinto, JPMorgan Chase & Co-COO, there is a 0% chance of 100% of people returning to the office again. He told this to CNBC in the month of February, and we cannot disagree with this sentiment. According to many influential people, the traditional office, the one where everyone commuted every day to work from 9 to 5, is a thing of the past.
Those times are gone when people used to sit at their desks in front of a laptop, emailing the person sitting next to them, instead of having direct interaction. Some employees cannot put their 100% and get their best work done in the office.
Despite experiencing this friction, according to Netflix CEO Reed Hastings, not being able to get together in person is a purely negative thing, and Hastings is not alone in this sentiment. Many employees prefer to go to a physical space to get their stuff done. They love to work together to enjoy a delightful and playful experience with colleagues. Remote working makes them miss those serendipitous moments because it only pops in around the office space. The sense of energy sitting with your colleagues and putting heads on a big project together cannot be experienced while working remotely.
Enough of challenges! Let's focus on a solution that is a win for business, a hybrid workspace.
"I can't tell you the number of CEOs I talked to who are thinking, 'I have to solve the diversity challenge in my business, and remote work is one of the key tools… We have to let go of this very office-centric culture and incorporate people who are in a lot of geographies." – Hayden Brown, CEO of Upwork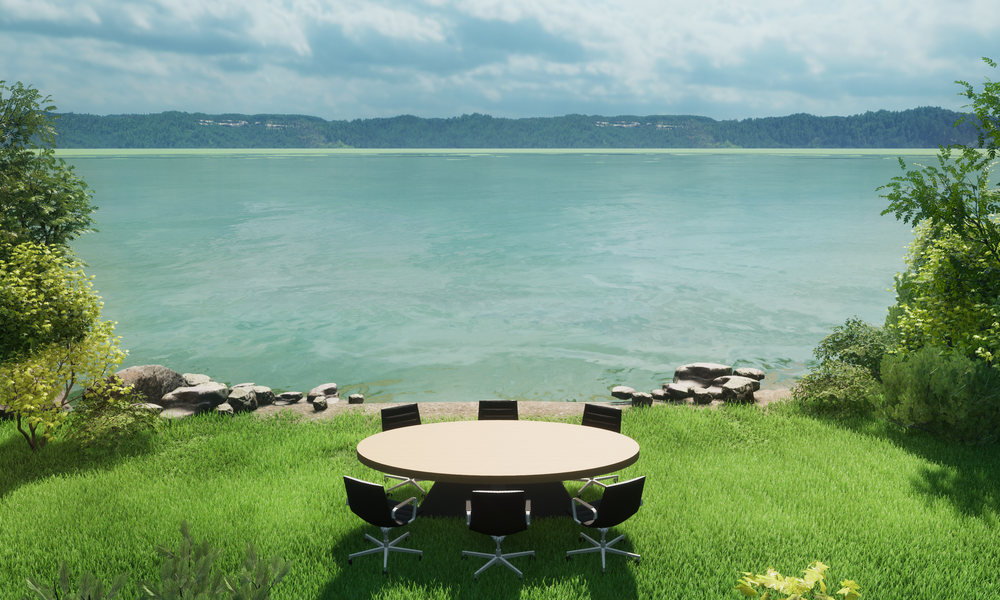 Why do more and more companies prefer a hybrid workspace?
A hybrid or a distributed model is what more and more companies have started adopting because of its significant advantages. While one of the most positive things about pivoting remote workplaces is the business can expand to any extent by hiring people from anywhere. Imagine a San Francisco company can hire employees from Arizona or Kansas. In that case, the cost of living and employee salary requirements will also be lower than usual.
The CEO of retailer Rite Aid, Heyward Donigan, has adopted the remote working unbelievably well. According to him, they have learned they can work from home and hire and manage the company simultaneously. On the other hand, some people think that remote working can hurt productivity, which is why more businesses have started adopting hybrid workspaces.
Hybrid space for your team - Try out -> SPATIALCHAT
SpatialChat is a virtual collaboration hub where distributed teams meet to collaborate, brainstorm and meet to get work done. We provide the collaboration, communication and presentation rooms for your team to talk, brainstorm, gather and work together on synchronous tasks.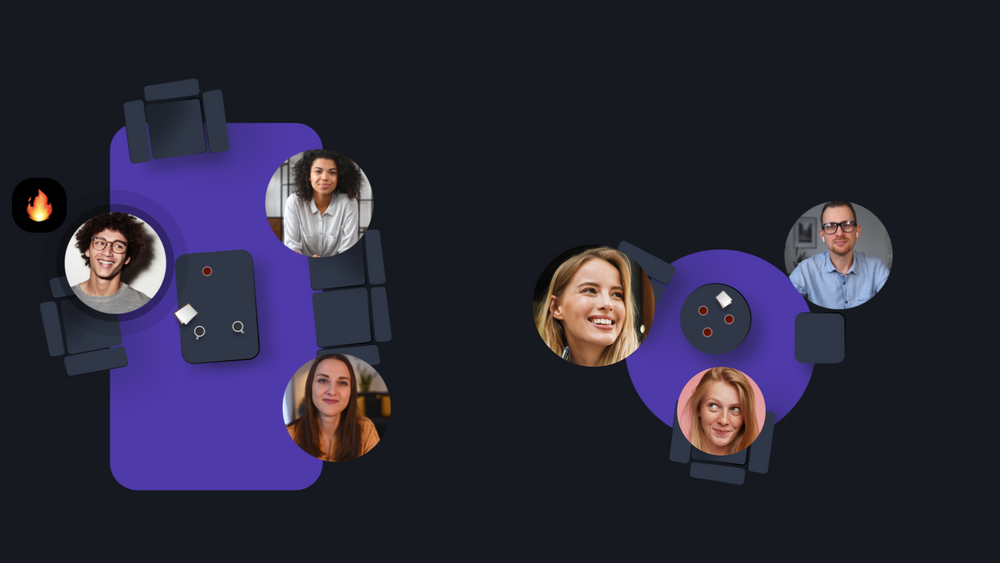 The advantages and challenges of a hybrid office
While we have started focusing on the advantages of a hybrid workspace, there are a few challenges too. Yes, businesses can pave their way to grow with lower staffing costs. Moving to halt remote stuff has the added benefit of putting all employees on an even playground. On the other hand, when it comes to human interaction, some employees might face some hurdles while interacting with the seniors because they are working remotely. In contrast, others can take advantage of direct interaction.
While working remotely, some people argue that, basically, people have nothing to do. But is this the reality? No! Remote workers take care of their kids and other commitments and don't have to deal with other stressful things like a long commute, office politics, etc. That is why they can focus a lot more. Now the question is, with both advantages and disadvantages, what is the future of a hybrid workspace?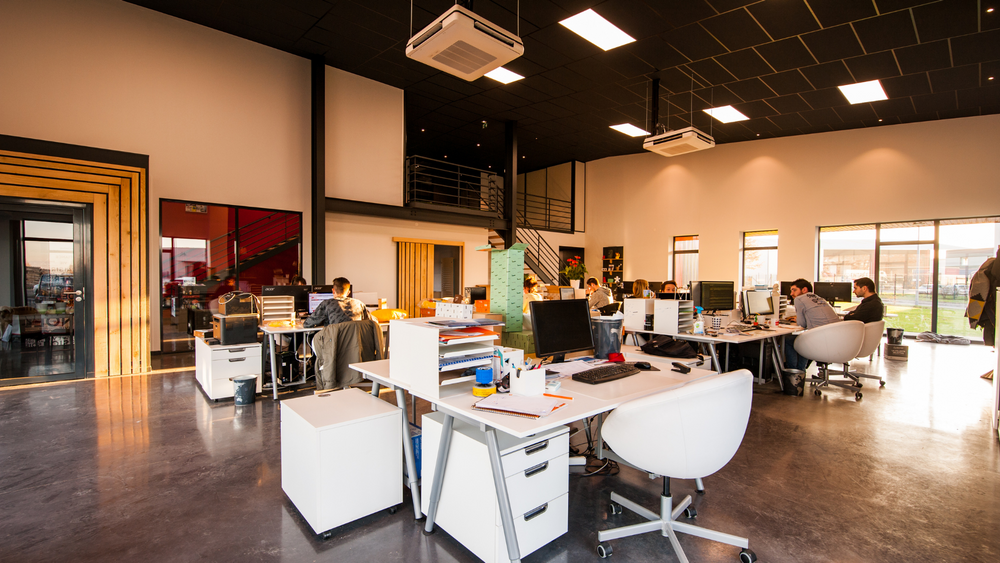 The future of the Hybrid workspace
While a hybrid workspace gives flexibility to employees, businesses get the opportunity to improve how work gets done. Teams can collaborate easily with the help of tools like SpatialChat. If businesses really want to reap the benefits of a hybrid workspace. They need to have a significant long-term strategy to deliver an intelligent workplace that makes employees experience the best in them. In short, they should start thinking beyond the office walls. After all, a hybrid workspace is the future of business.
We make it easy for virtual teams to collaborate and build a long-lasting company culture that delivers results.
How can you successfully implement a hybrid workspace?
Businesses should focus on delivering next-generation experiences in their workspace. That is because the future is about employees' flexibility and remote work collaboration. While blending physical spaces with virtual spaces, the best technologies like SpatialChat will assist businesses throughout their day. This is an intuitive and intelligent software that helps businesses with great collaboration and delivers insights to improve user and employee experiences continuously. Manage business solutions on a platform that is both reliable and secure. (SOC 2 Type II)
The hybrid workspace also serves a new purpose. That`s why businesses must think about a new office strategy that works. For instance, how will employees know a desk is available for them in the office? Can employees expect a familiar and consistent collaborative experience from both office and home? Can they easily manage and deploy devices at home and office? Can they track their work while working from home?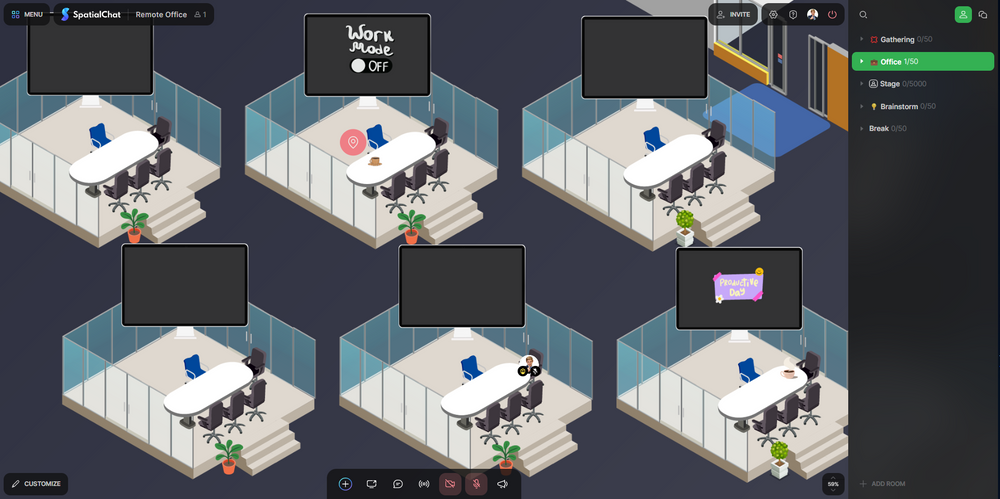 Why choose SpatialChat as a hybrid environment?
SpatialChat is an innovative, collaborative tool that makes employees and friends work together remotely. It comes with different powerful collaborative features to take your workflow to the next level. In short, you can build a productive synchronized work environment in real-time. First, it will give employees a consistent experience from the office and home.
Helpful materials
Here are some helpful links and great resources to dive deeper into the world of SpatialChat.
Let's explore it😊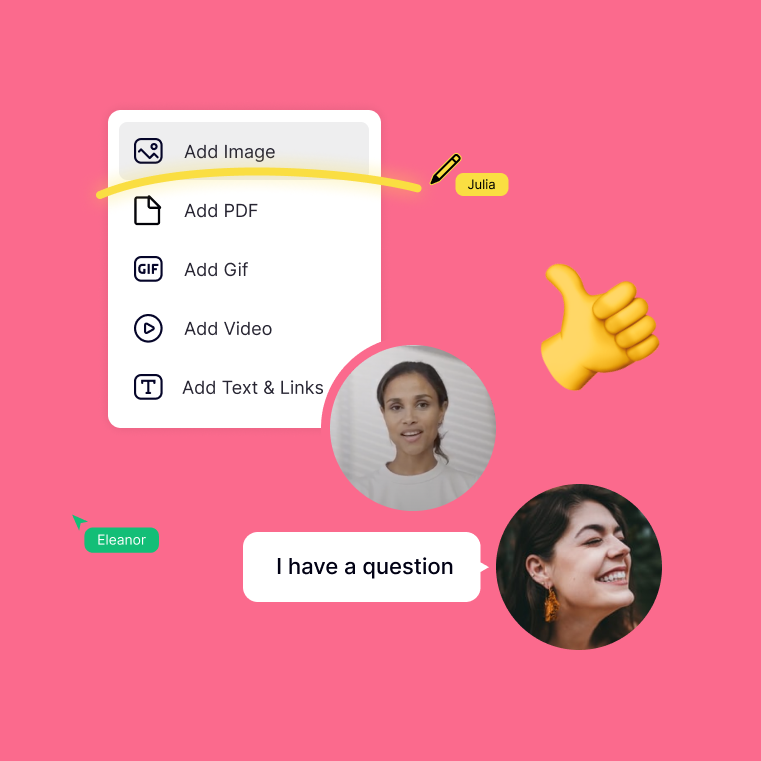 Let's kick things off with some simple guidelines to help you begin your journey of interacting.
Learn more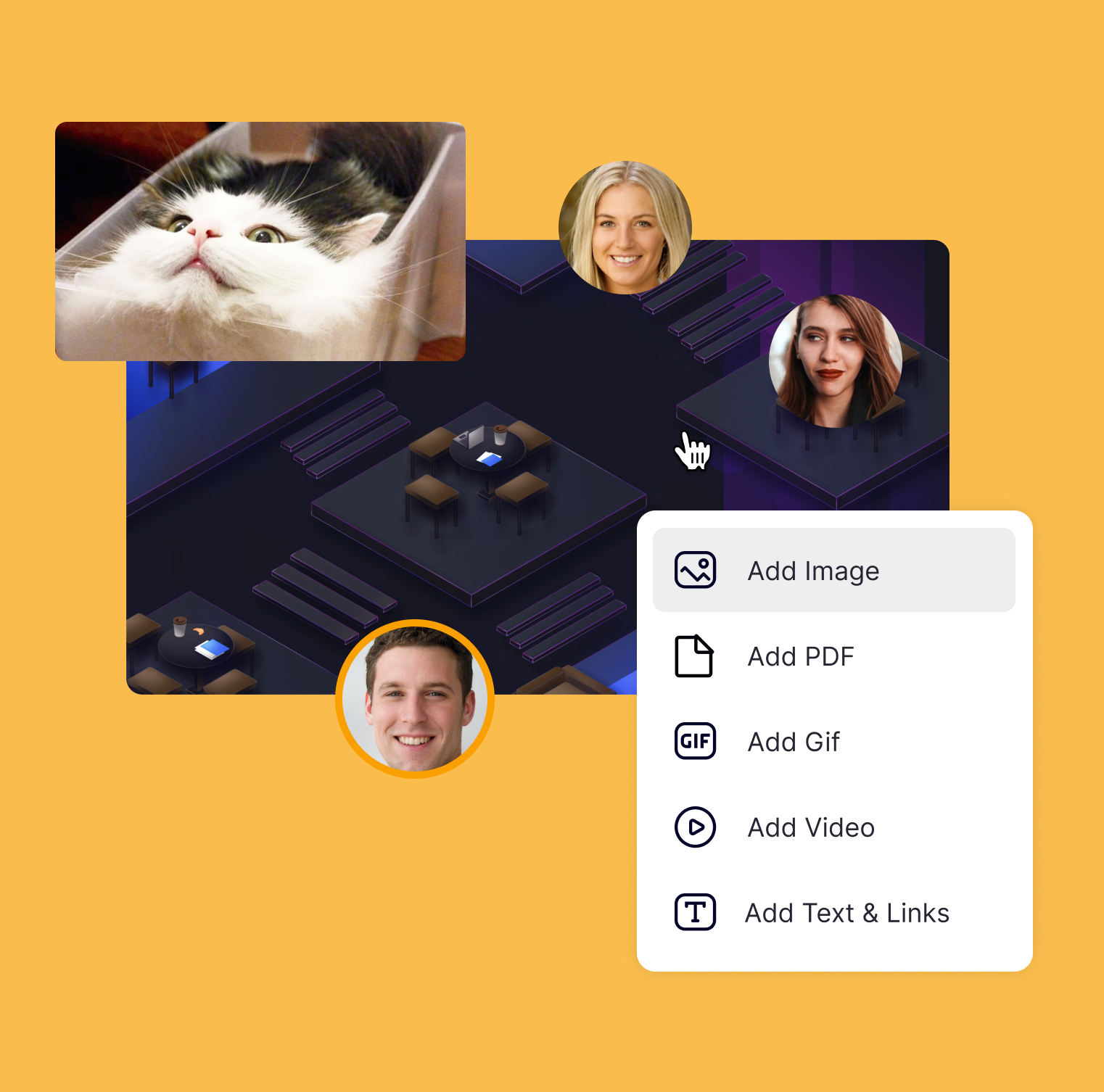 Explore, learn, and engage with SpatialChat!


Try for free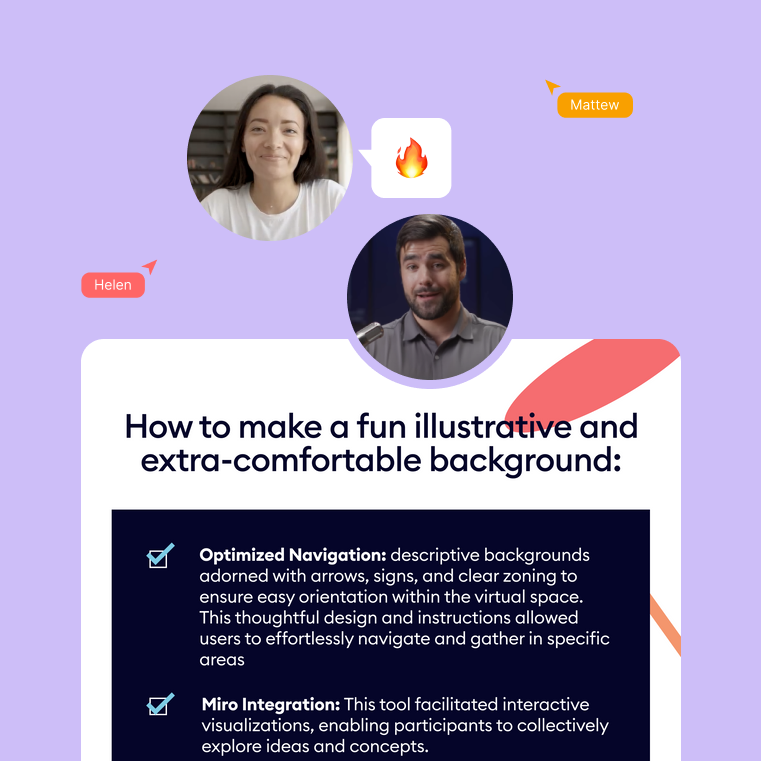 Discover creative ways to enhance your virtual interactions and collaborations..


Learn more