Guides
How to build a successful online workshop
Online workshops emerged as a popular effective medium for companies and teams to exchange valuable information, upgrade skills and expertise. Building a successful online workshop is about creating an interactive learning experience that drives meaningful engagement.
Once your goal is to build a successful workshop online, this guide will equip you with the knowledge to craft it!
Start crafting an online workshop that shines
It's crucial to set your individual goals
To craft a great online workshop that shines, you probably begin with a workshop specific goal. Do you want to equip participants with specific knowledge or help them upgrade a skill? A single goal helps create a workshop that aligns with your objective.
Meanwhile, when you know who your workshop is intended for, it's great to tailor your content  to meet participants' expectations. Break the content into logical sections or modules, and thus you create a well-structured agenda that includes a mix of presentations, interactive activities, discussion, and Q&A session
Interactive content as one the keys to success
How can you develop engaging content for your workshop? Use a mix of presentation slides, case studies, embedded interactive polls, and real-time collaboration tools to keep participants actively engaged in the session.
Be an engaging presenter and utilize effective communication techniques such as clear and concise speech, enthusiastic delivery, and incorporating storytelling or real-life examples to make the workshop more relatable and impactful.
Choose the right platform to facilitate great workshop
The emergence of video-conferencing platforms and collaborative tools has simplified a dynamic learning experience. The impact is truly profound, as these innovative solutions transform traditional training into an immersive journey where participants become active contributors.
What to pay attention to when choosing a tool for your workshop:
Select a reliable and user-friendly virtual platform that supports the necessary features for your workshop, such as:
- multiple screen sharing,
- breakout rooms,
- group and direct chat,
- recording session,
- interactive tools like polls or whiteboards.
Therefore, the choice of platform has a great influence on the process of organizing and conducting any online workshop:
Assigning access levels to team members who help facilitate the workshop is a valuable practice.
Assigning different roles such as Participant, Moderator, and Admin you can distribute responsibilities effectively, ensure smooth workshop structure, and provide support to participants when needed.
Basic practices for online platform space set up
When preparing workshops, facilitators often require some time to acquaint themselves with the features and functionality of online platform to effectively engage with their participants.
We recommend to consider some basics for a successful setup when building a space in particular. Create the following rooms types:
Welcome room: participants for the first time typically require a minimum of 10-15 minutes to get to know the platform as onboarding. During this period, they may engage in small talks to get acquainted before the workshop starts.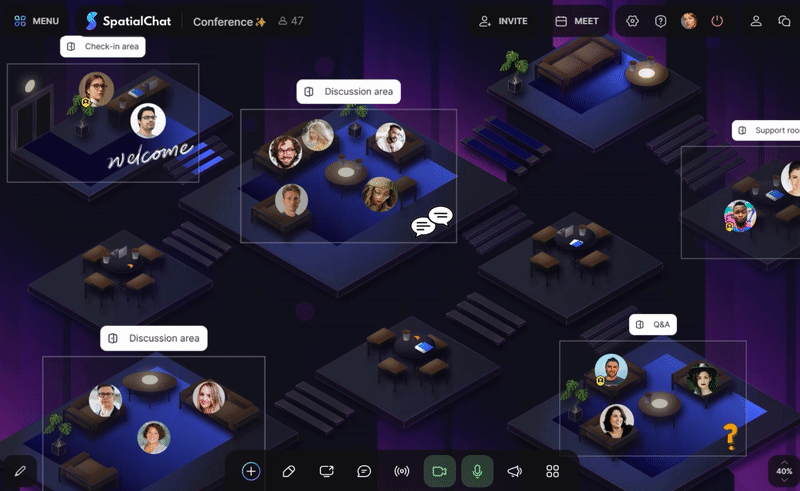 Main room for a brainstorming session: сreate a dedicated room for the brainstorming and ensure that it has the necessary features for collaboration, such as digital sticky notes, dedicated videos and other. Make use of multimedia elements to enhance engagement. Include relevant images, videos, or audio clips to support your content and make it more visually appealing and dynamic.
Areas for group activities: It's great to use the virtual platform's collaborative features, such as virtual whiteboards in breakout rooms to enhance brainstorming activities and group discussions.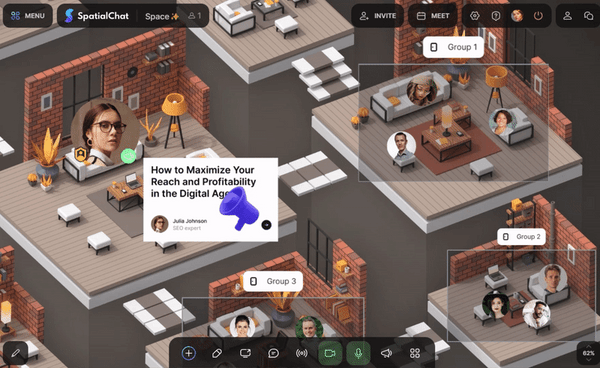 Parking area for to take notes for future meetings. As ideas are generated, capture them visually on digital sticky notes or shared Google Docs. Ensure that the session is recorded or take screenshots periodically to preserve the ideas and discussions for future reference.
It's great to continuously adapt and improve your online workshops based on participant feedback and evolving needs. By following these best practices and creating an engaging online environment, you can build a successful online workshop experience for your participants.
Helpful materials
Here are some helpful links and great resources to dive deeper into the world of SpatialChat.
Let's explore it😊