Guides
Pro tips to hold productive virtual 1:1s
Such meetings, however, can become a time- and energy-waster if not managed properly. Thus, it's crucial to know how to organize productive one on one sessions with employees where you discuss important issues and find solutions but not kill time.
In this post, we'll tell you what stays behind the effective 1:1 meetings and share some pro tips to help you immensely improve the quality of your job communications.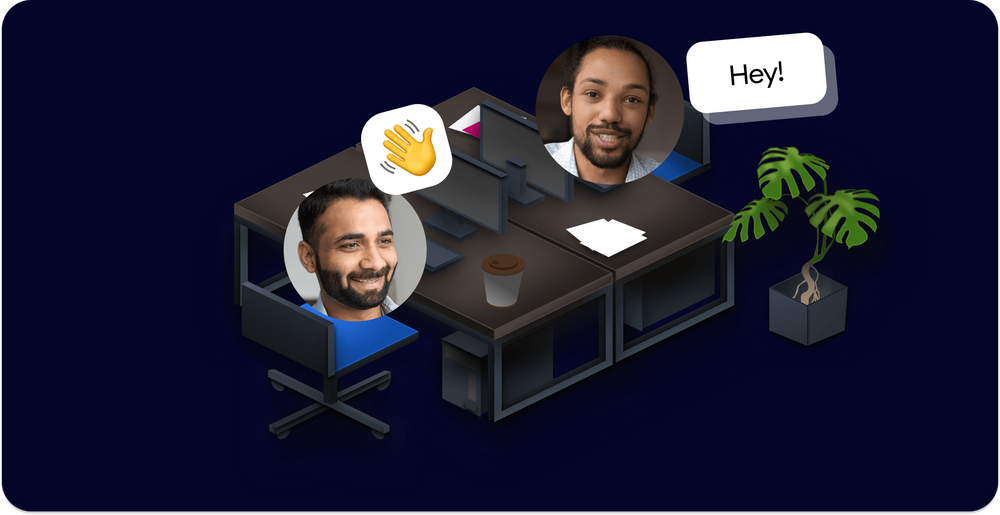 What is a Virtual One on One Meeting?
In the era of the COVID-19 pandemic, the majority of companies switched to the remote work mode. Thus  virtual meetings became our new reality. Today we have a brilliant opportunity to hold a virtual meeting at any time, in any place. There is no need to rush to the conference hall; all you need to take care of is a stable Internet connection.
When it comes to a virtual one on one meeting, managers, directors, and C-level executives connect with their team members tet-a-tet online using video software such as SpatialChat, Zoom, Skype, Microsoft Teams, or any other platform. The goal of these calls is to check an employee's  progress, give feedback on his/her work, share recent experiences and insights, set goals and priorities, and plan upcoming activities.
Effective 1:1 meetings typically last 30 to 60 minutes. It's necessary to schedule regular meetings with every worker for at least 30 minutes, ideally once a week to ensure all employees are on the same page.
Why are 1:1s important for your team?
Checking in with your team members individually from time to time is essential for their high performance and overall job satisfaction. During one on one meetings, you can find out what task a person is working on right now, what difficulties they face, and how you can help them overcome the obstacles and operate better.
Such meetings develop your trust and relationship, making the employees more engaged and energized. According to Gallup, the workers who have frequent one on one meetings with their supervisors are nearly three times more engaged than those who don't.
The special thing about virtual one on one sessions is that they provide a more relaxing atmosphere than in the office in most cases.  A home provides a  secure environment for individuals to discuss their ideas and concerns while remaining comfortable in their surroundings. Statistics prove this statement and say that 87% of employees feel better connected  when using video, 80% of workers believe that video conferencing has improved their career and personal happiness.
Thus, as we can see, virtual 1:1s aren't only a convenient way to arrange job conversations, but they also give a more positive experience for all participants.
7 Pro Tips for Improving Your Virtual One on One Meetings
As we have already figured out, these one on one sessions are a crucial component of remote team management. They have to be maintained properly to be effective and useful for both managers and  other team members. That's why you will need the following tips on how to do effective 1:1 meetings without any trouble and stress:
1. Prepare wisely and beforehand
One of the most important things you will need to prepare for your 1:1 sessions is an agenda. Although virtual meetings are organized remotely, they still must be official – not in tone, but in schedule and structure. And that's where a 1:1 agenda comes in handy.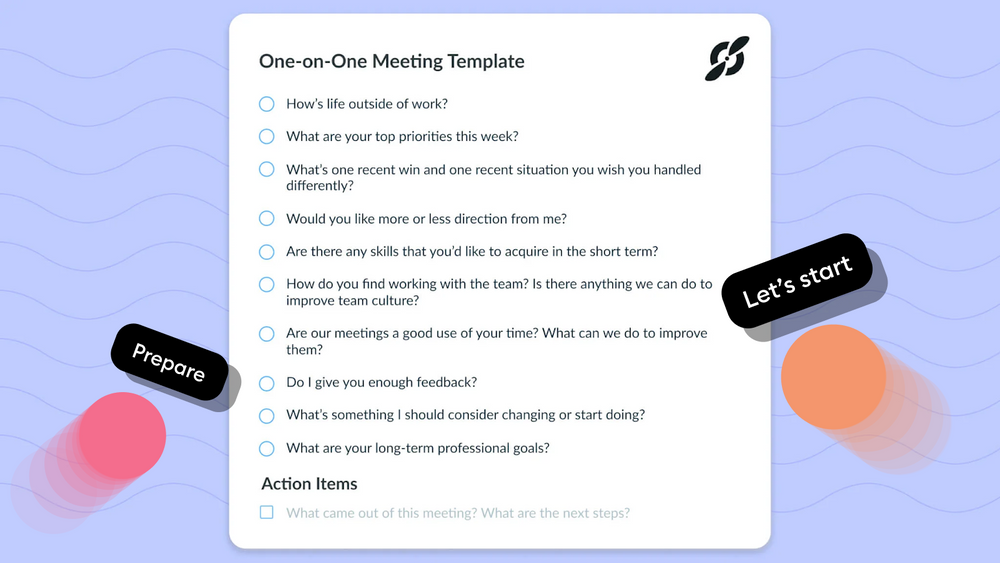 According to "The Balance Careers," implementing a defined agenda may save meeting time by up to 80%. Setting up an agenda does not mean you should write all of the meeting's details down. But you should plan ahead and define things that will be discussed. List the topics and expand on them during the real conversation. Not just a manager but also an employee should do some planning before the meeting.
A rule of thumb says that the direct employee's report should take up 90% of all meetings' subjects and time. The remaining 10% are allotted for a manager. Surely, this proportion can be adjusted from time to time.
2. Ask the right questions
Asking questions is the key to ensuring you understand each other and pursue common goals. However, be tactic with your questionnaire. Don't bombard an employee with chaotic questions. Instead, set a logically connected conversation plan. Think about talking on such topics as goals, life, role, company, career development.
These are some of the relevant questions that you can ask to hold a successful one on one meeting with an employee:
How satisfied were you this week?
What could be improved, in your opinion?
How productive have you been in the last week?
Do I give you enough feedback?
In what ways have you progressed since joining the company?
In what areas do you want to improve?
3. Enhance your meeting with SpatialChat and other software
Video call is the main part of virtual 1:1s. Finding the right tool for your team is critical, and we bet SpatialChat gives you all features required for a productive in-person meeting online. In addition to basic chatting and video call functionality, you can make a one on one session an exciting event by customizing the app interface. Create custom backgrounds, choose your favorite colors, and add your logo. That's how each employee can get a high level of personalization and feel unique.
Another software you should incorporate is a document management system. The most popular services are Notion.so, Dropbox Paper, and Google Docs. Creating a diversified toolkit will assist you in numerous organizational processes, including agenda preparation, video, taking meeting notes, and other post-meeting activities.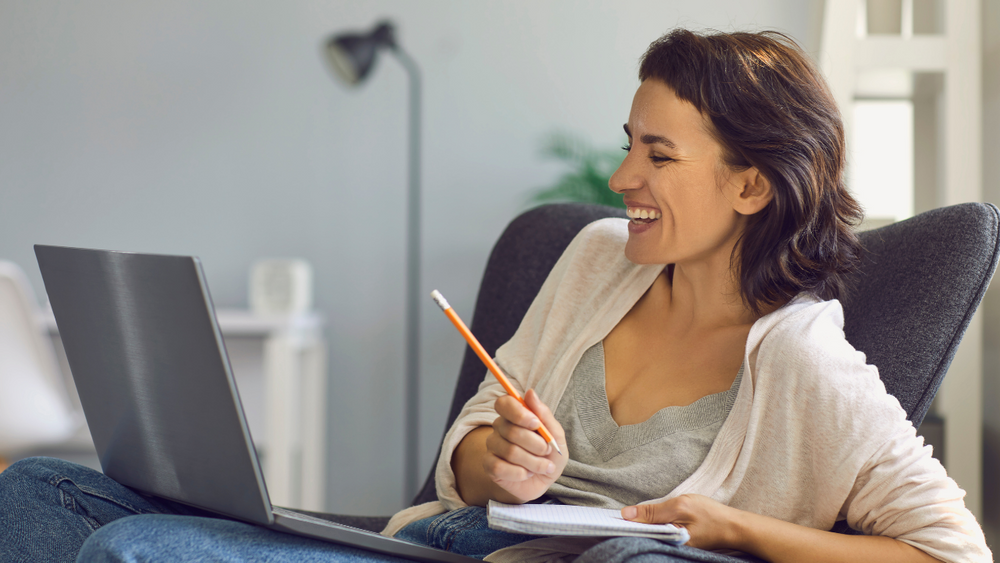 4. Summarize the conversation with meeting notes
Taking meeting notes is probably the second most essential thing after active listening that can help you hold effective 1:1s. You don't need to transcribe the whole discussion but rather create a short list of action items, stuff to review, and things you want to remember.
1:1 notes can be divided into two categories. The first is a common agenda that serves as a notepad for you on a regular basis. The second is your own notebook, where you keep track of things that are important to capture during the video chat.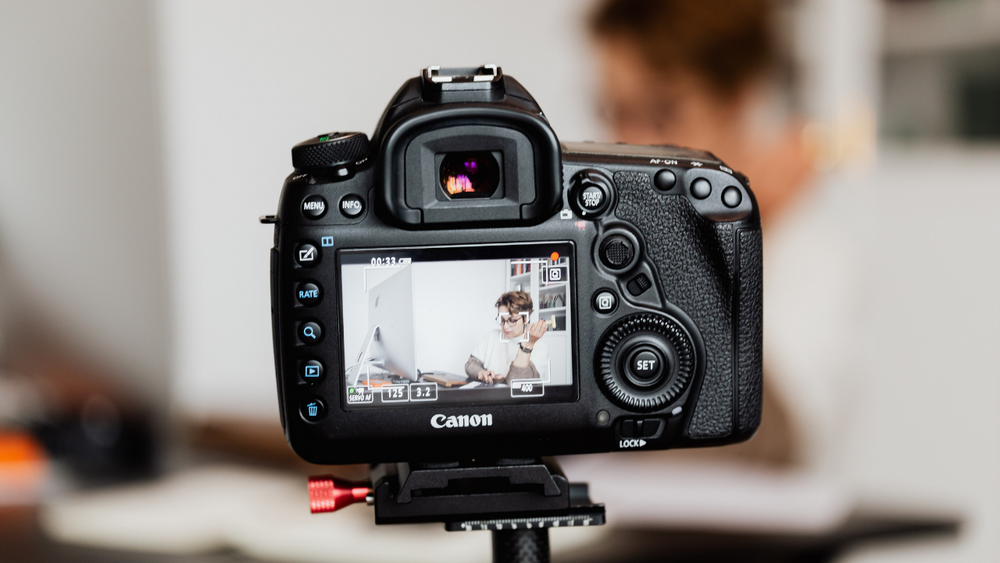 5. Take care of your video quality and convenience
How will you appear to your colleagues and will you feel comfortable? Consider the following technical factors when preparing for the meeting:
Finding the ideal location for your one on one meetings requires a little forethought. Look for a peaceful area with plenty of light. Try to keep possible disruptions and distractions to a minimum.
Isolate by letting the people living with you know when you'll be meeting with employees so they can minimize background noise and interruptions.
Choosing the background, remember that this will talk about your personality during one on one sessions. Before the event, test your background in a demo video to see how it looks on screen.
Remove any distracting sights from the space behind you to make it as basic and neat as possible. Place yourself at a comfortable distance from the camera—not too close or too far. Have a light source behind your gadget, not in front of you, and make sure everyone can see you clearly.
6. Try out four-week cycles project management approach
Using four-week cycles is a method of breaking down tasks month by month. It's one of the most helpful virtual one-on-one techniques for remote supervisors. As a rule, four cycles establish a clear route for remote employees to follow in order to accomplish desired objectives. This loop reduces anxiety and uncertainty while increasing production and productivity, resulting in a hyper-focused, accountable virtual workforce.
To follow this approach, meet with your team once a month to set hyper-specific goals for the following four weeks. These discussions will create priorities for the immediate future. Of course, unforeseen circumstances may force a departure from the plan.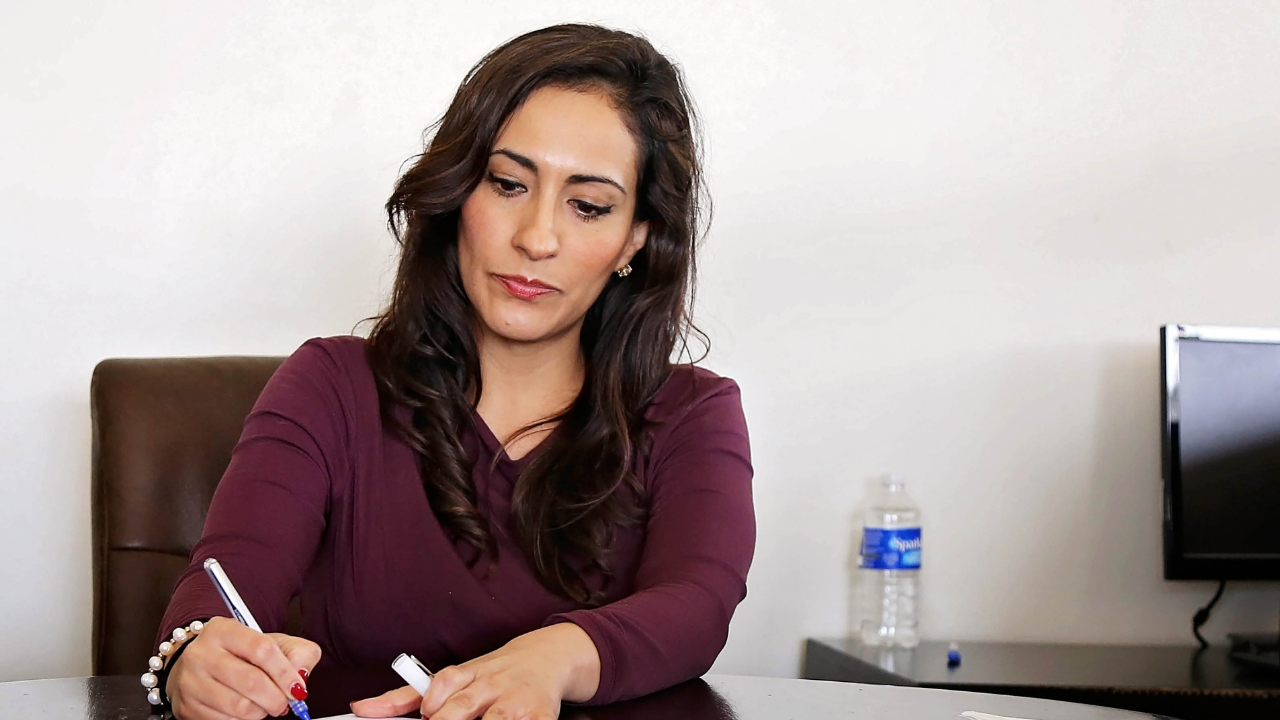 7. Dress like a professional
Even if your meeting is online, you should still dress as if you're meeting with an employee in person. You don't have to wear a suit, but wearing sweatpants or workout clothing is not professional.
In the video call, a basic buttoned shirt, blouse, or sweater will look great. Avoid using busy patterns or accessories that draw attention away from you. What clothes we wear can directly influence our mood as well, so if you want to be productive during the meeting, dress up accordingly.
Conclusion
Virtual 1:1s are vital for productive remote team collaboration. Using the listed tips, you'll be well-prepared for the meetings and give your employees the possibility to get maximum benefits from the interaction, especially when you enhance your communication with the right video conference and project management tools. That's how you can ensure there is no chaos during your one on one sessions!
SpatialChat is a virtual space that brings the best break-out & networking experience for online events & teams of any size. We make it very easy for you to break out with people across and quickly move between different rooms. Customize your space, set the mood, and create an unforgettable event for your guests. You will love it. People have been using SpatialChat for Virtual conferences, Virtual international congresses, Virtual workspace, Online events, Online webinars, Online learning & education, and more...
Helpful materials
Here are some helpful links and great resources to dive deeper into the world of SpatialChat.
Let's explore it😊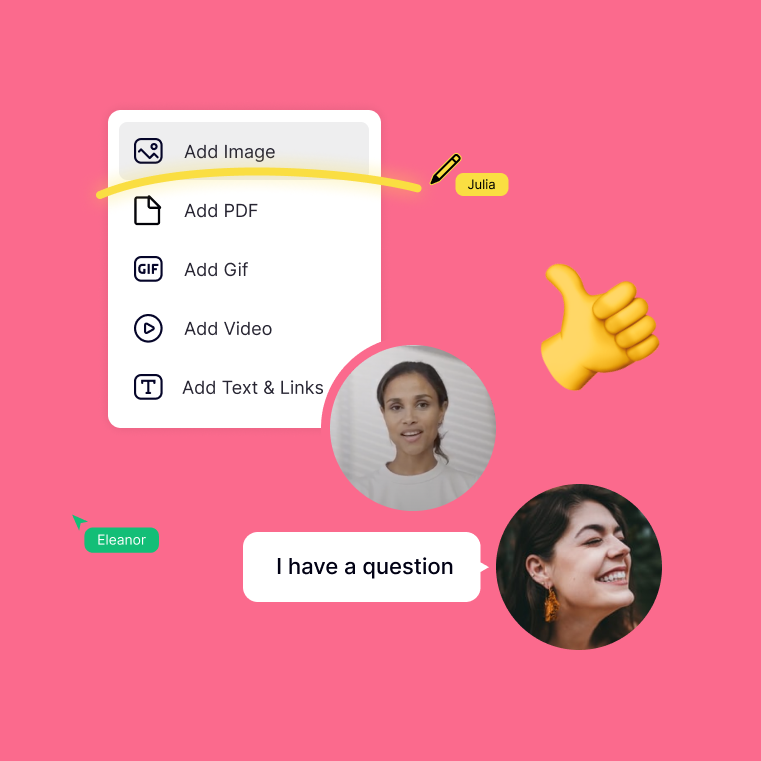 Let's kick things off with some simple guidelines to help you begin your journey of interacting.
Learn more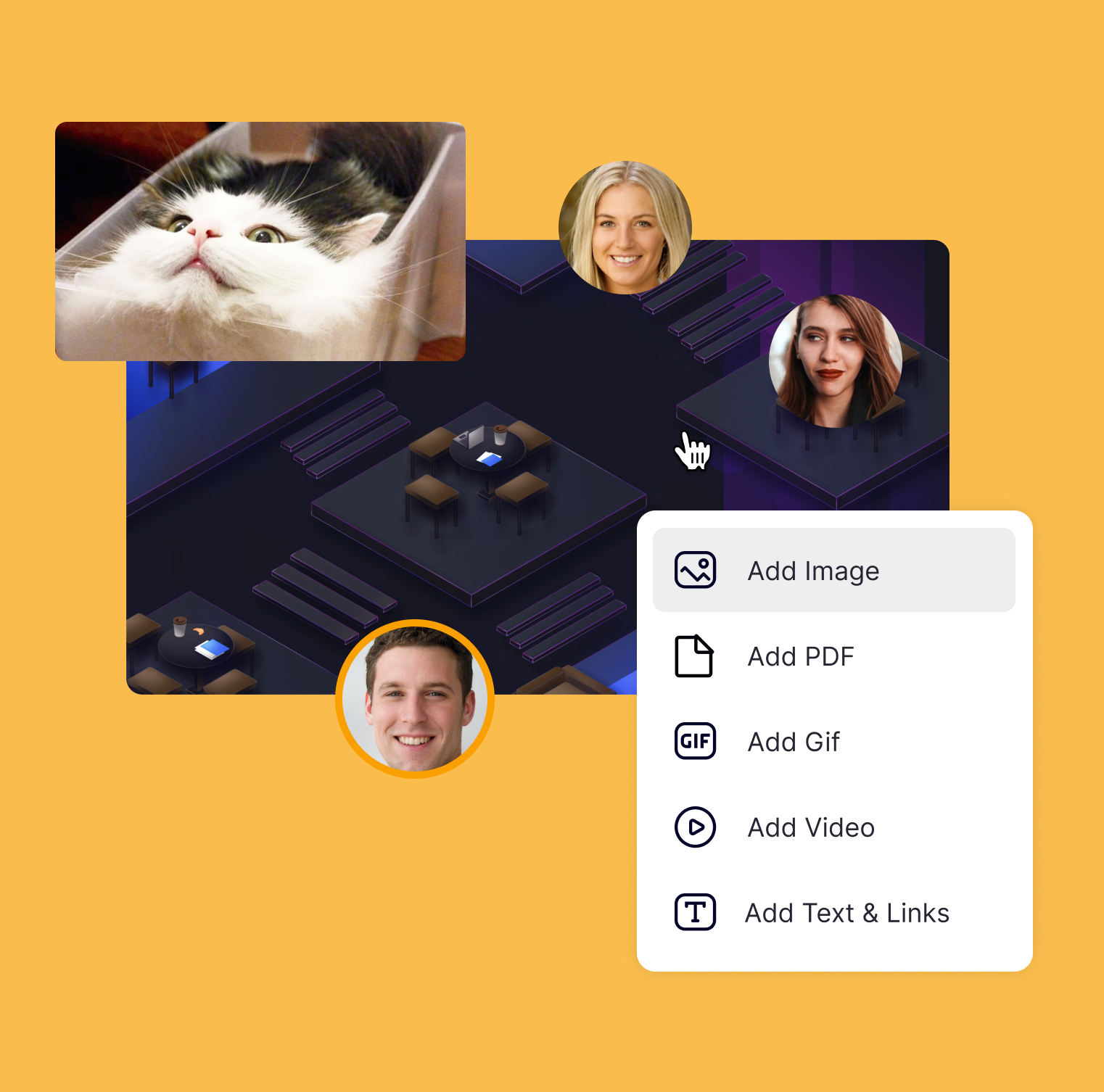 Explore, learn, and engage with SpatialChat!


Try for free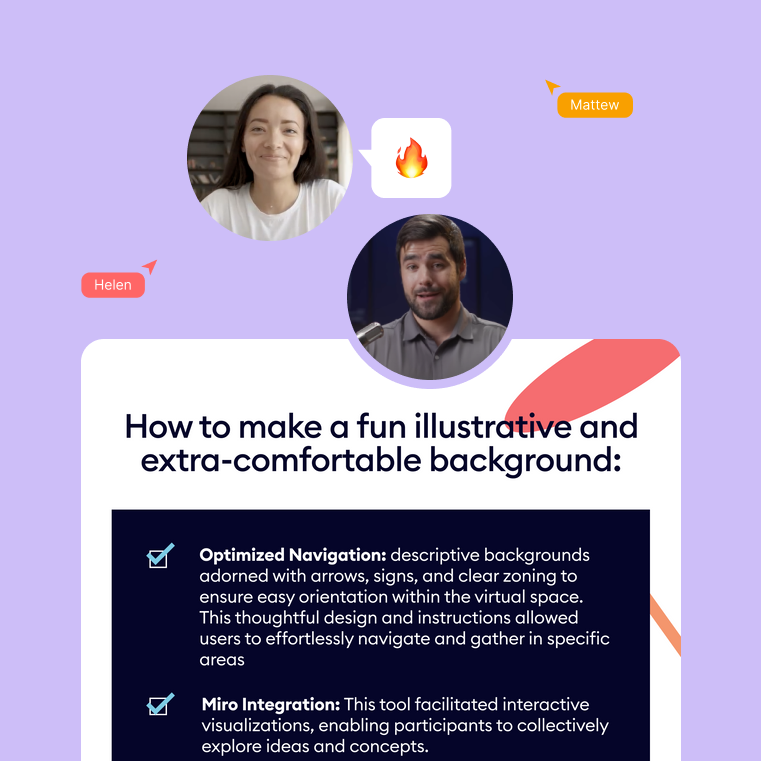 Discover creative ways to enhance your virtual interactions and collaborations..


Learn more