Guides
Virtual assets to sell to a sponsor
Identifying your assets for a virtual event may seem like a challenging task, but in fact, you can be pretty creative and fluid with assets.
Prominently featuring a sponsor logo or their links on the event registration page or pre-event email is a good start. However, a raffle of promotional items to attendees or a sponsored pre-party prior to the gathering can help you gather more leads.
In this short guide, we share nine ways the SpatialChat platform can help event organizers activate sponsorship to the full extend.
Logo placement
This is the most common type of asset for events to utilize because it's one of the easiest to execute. You can pin your sponsors' logos in any of your rooms or even in all of them.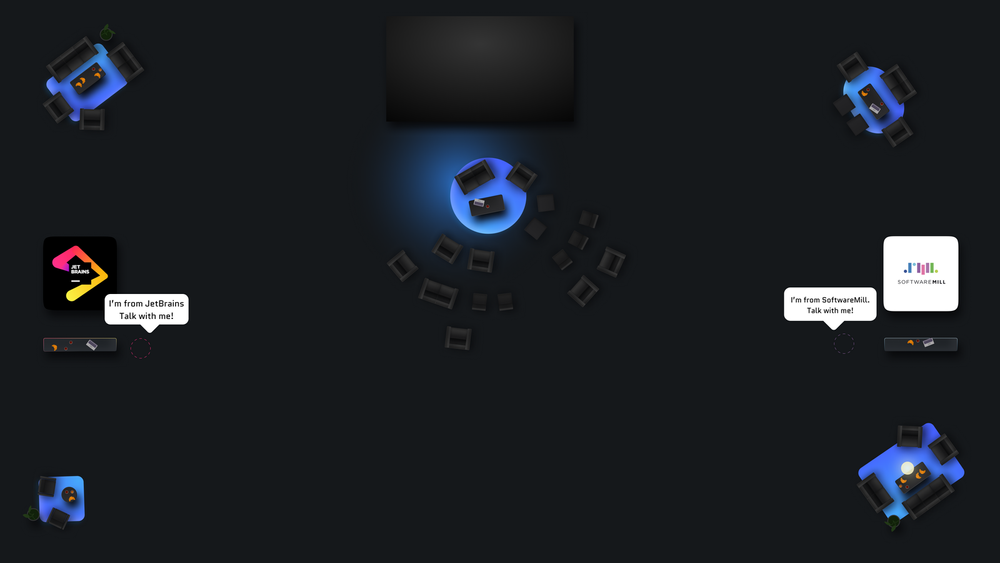 Tips to get more impressions:
While you can't have a giant banner with a sponsor's logo at a virtual event, take advantage of event technology - place the logo in the first room. Usually, it is the room where people go when they just logged in.
Sponsors want attendee attention so place their logos in the most popular rooms. How do you know which rooms are the most popular? You can transform a room into an attendee magnet by running a Q&A session with a speaker there.
Place a logo near the Spawn Spot, the place in a room where guests appear when moving between rooms. That way, your attendees will always see the logo.
Click and Go
SpatialChat events enable an extra convenient feature for attendees to click and go straight to your sponsor's resources, unlike offline events. You can pin any links in the background.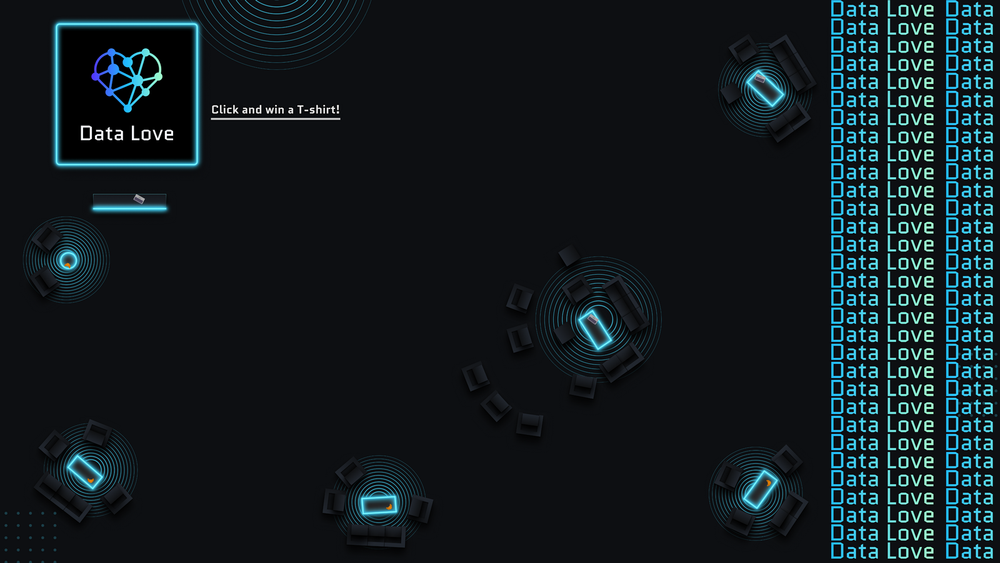 Pro-tips:
Try not to use QR-codes or images with links. That may lead to confusion where an attendee can't use a link from their computer.
Put links in multiple rooms.
Link to an application form, vacancies, quizzes, or the opportunity to win a prize.
Video content consumption is all set tohit the 82% mark of all consumer internet traffic by 2022, and that is exactly why your sponsorship packages must include video ads. You can also pin a video on the background in SpatialChat.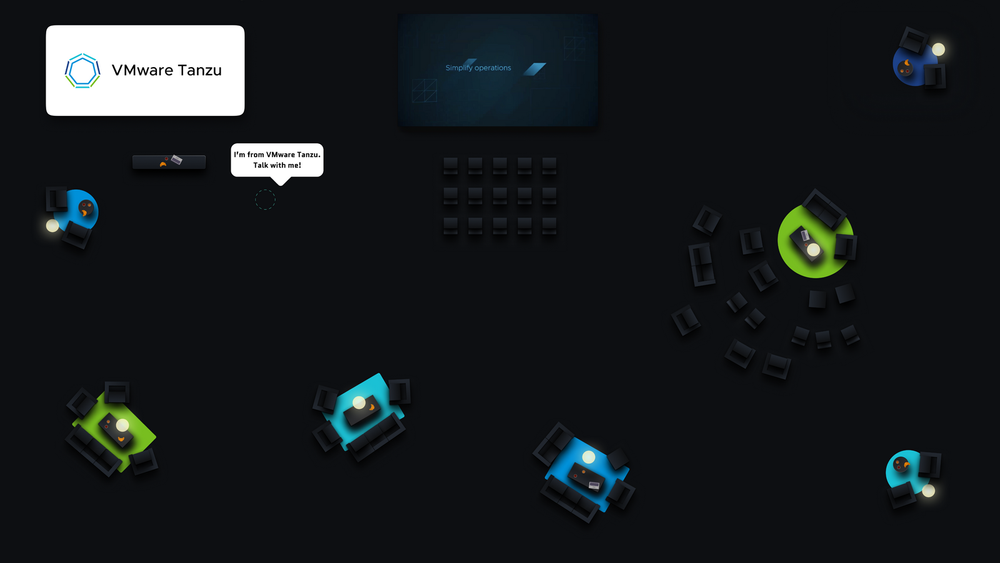 Some ideas for the videos:
Announcements
Demo of the products
Pre-recorded talk
Naming right
Brands like to be a part of central gathering areas so you can name rooms after your sponsors. Everyone in the space will see it. Make sure you assign a good value to it.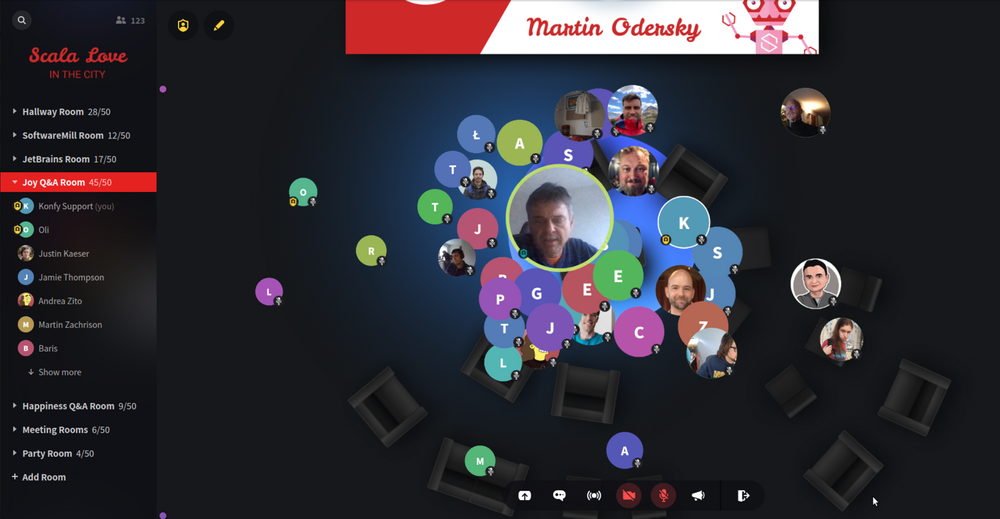 Local broadcast
While SpatialChat provides a welcome break out by letting you move freely between conversations, the sponsors would like you to join their sessions. You can offer them access to a megaphone. With this function, all users in the room will hear the sponsor equally and won't be distracted.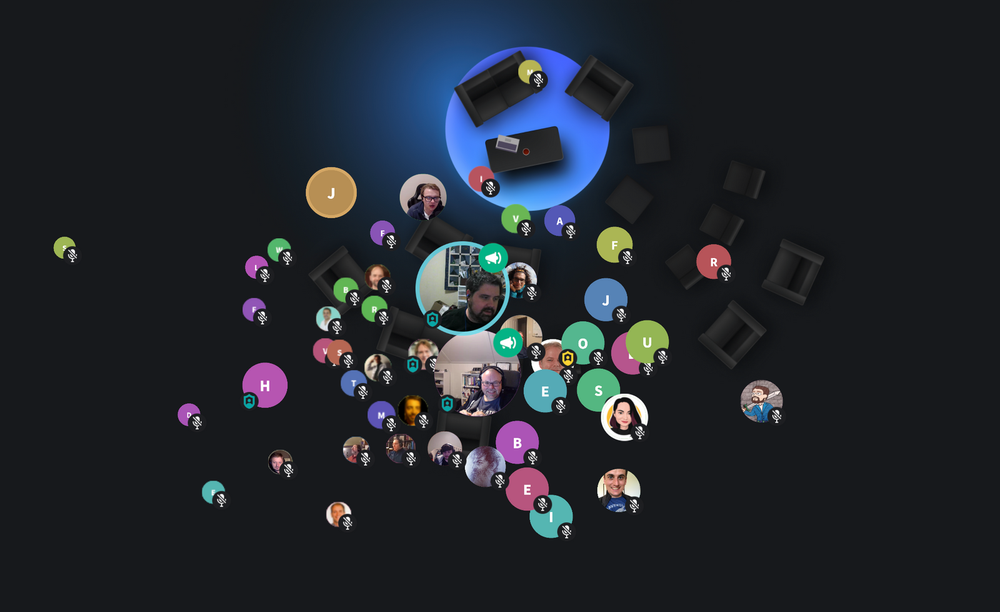 Global Broadcast
How to make a global announcement? Again, SpatialChat's Broadcast feature is unmatchable by the offline events.
During the broadcast, all users in the entire SpatialChat space can hear and see you.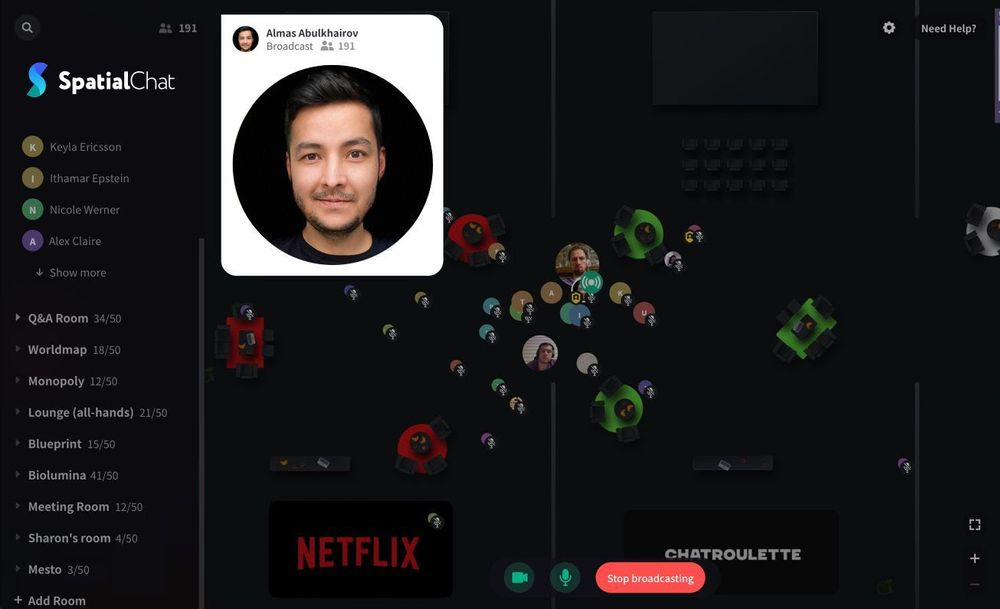 Keep in mind that the broadcast potentially disturbs people in other rooms during their conversations.
Demo sessions
At an offline event, there is always a deficit of rooms. It is unlikely that organizers can provide every sponsor with a place to run a demo session.
And it is somewhat challenging to use sponsor booths to gather more than 15 people. Whereas in SpatialChat, there are two ways to run demo sessions.
The first one is to share a screen in one of the rooms, gather an audience in the same room near the speaker, and present a demo.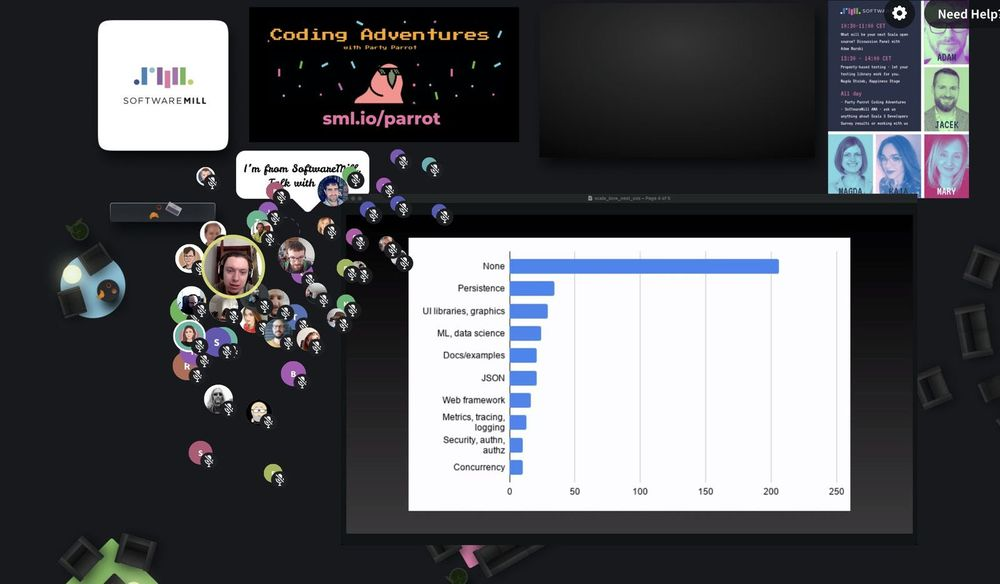 The second one is to do it on the Stage.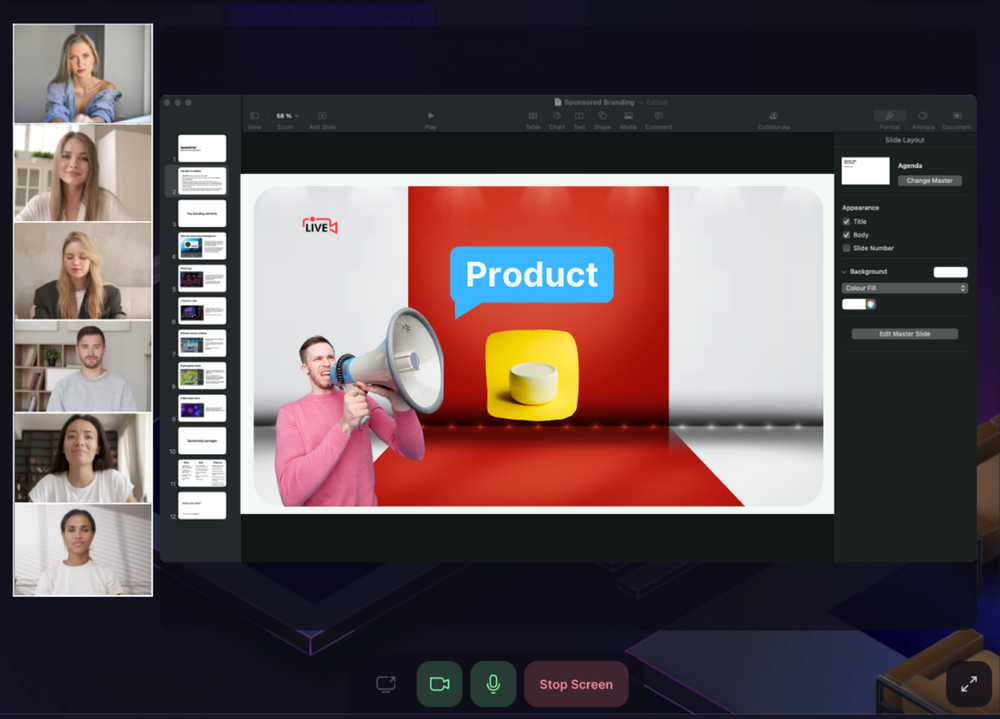 Branded Booth
Just like an offline event, you can make a special place for your sponsors to talk with attendees, run demos, or arrange ask-me-anything sessions. It can be a separate room for each sponsor or a room with several booths together. SpatialChat has various backgrounds you can use to create sponsors' booths easily. All you need is to pin the logo near the sponsors' booth.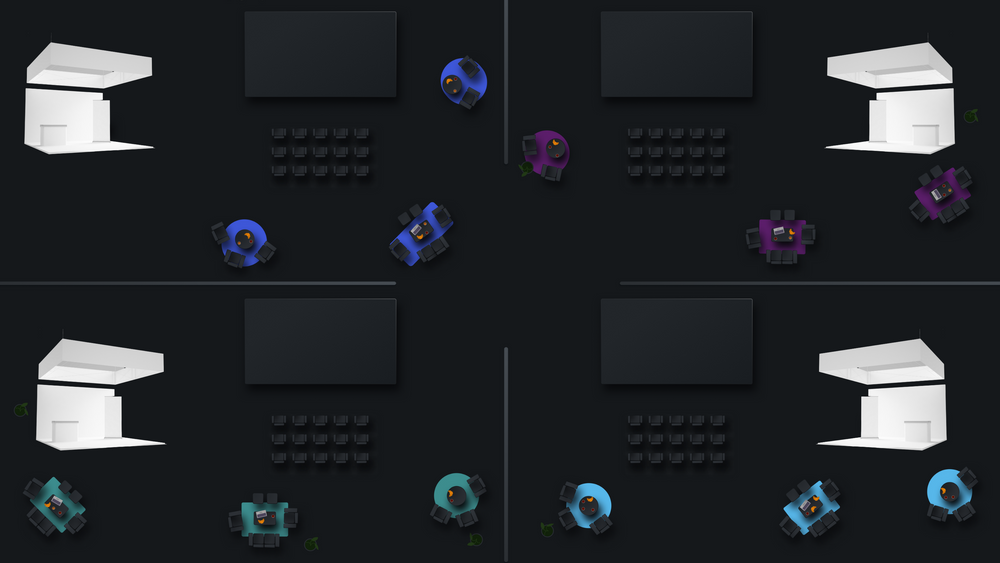 Tips for the best experience:
Upload personal background with your sponsor logo and corporate colors.
Run a demo for sponsors before the event to show what space will look like and how they can get the most of it.
Schedule an open day for sponsors to give them extra time in SpatialChat before the event to get familiar with it.
Talk to people who work in a booth during the conference and help them to get the most valuable experience.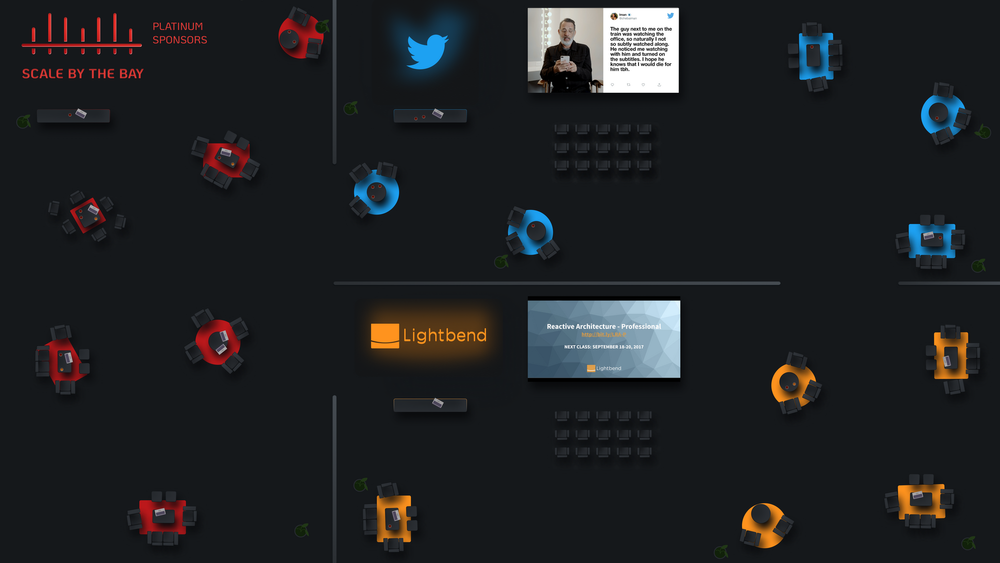 Branded Space
A title sponsor is a big commitment for an event but also highly lucrative. How can you implement this online? Brand the entire space, and everyone will see the sponsor when they try to join your event.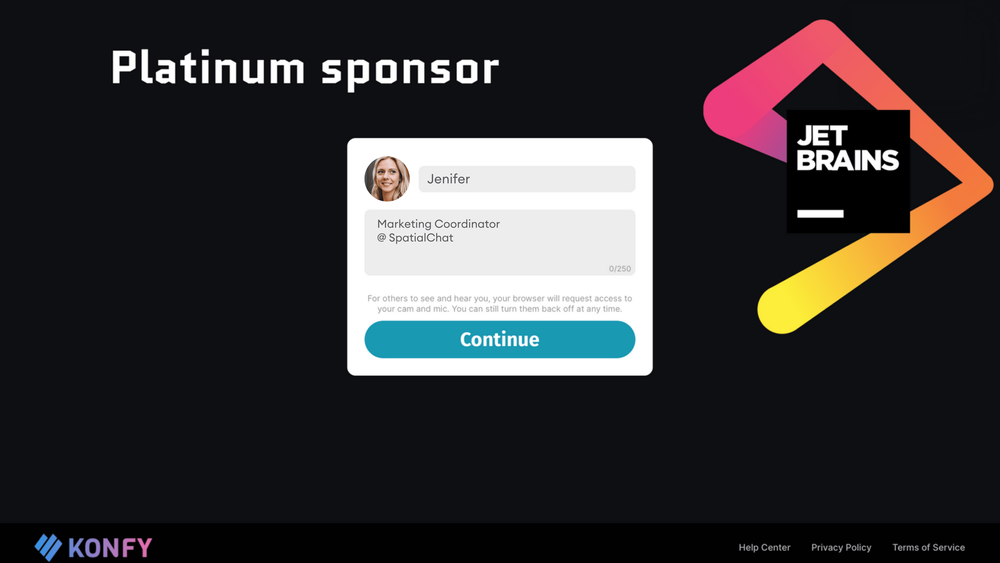 Helpful materials
Here are some helpful links and great resources to dive deeper into the world of SpatialChat.
Let's explore it😊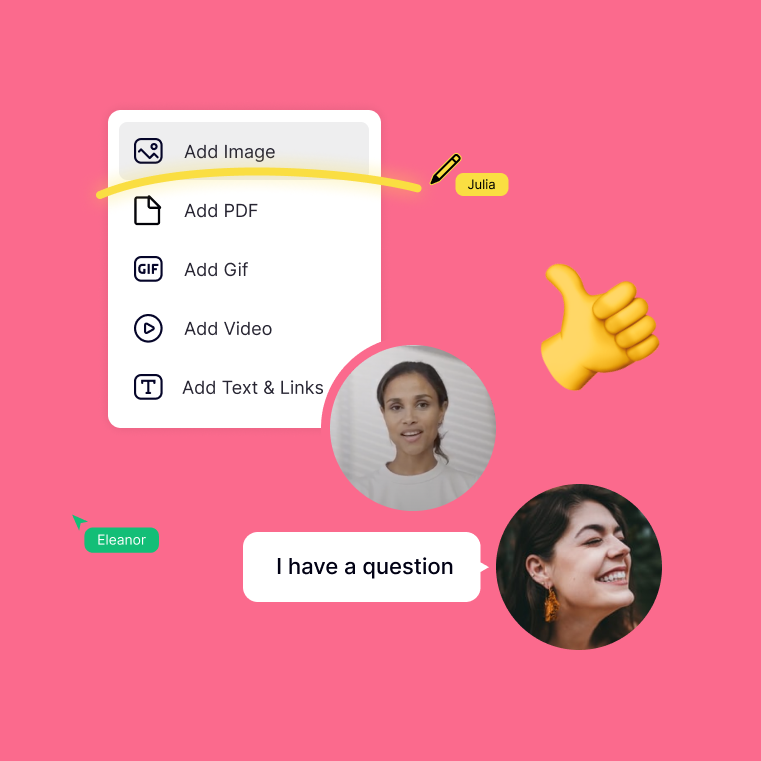 Let's kick things off with some simple guidelines to help you begin your journey of interacting.
Learn more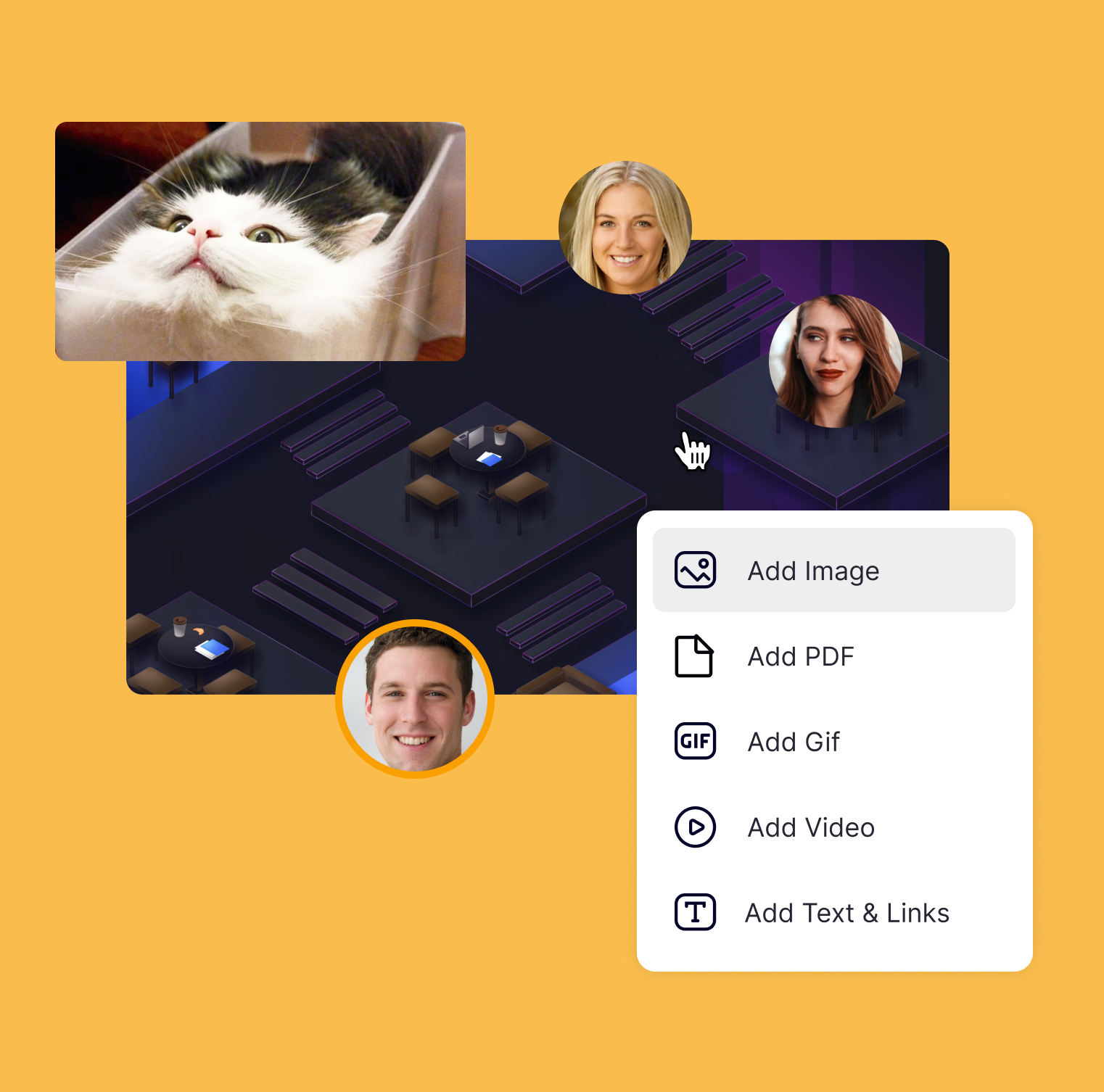 Explore, learn, and engage with SpatialChat!


Try for free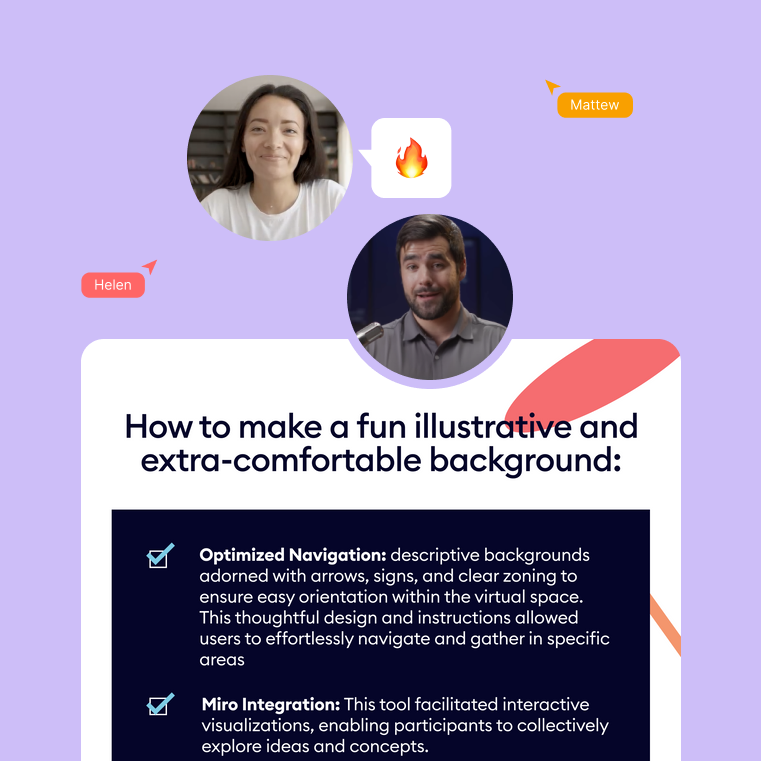 Discover creative ways to enhance your virtual interactions and collaborations..


Learn more